Jim Powell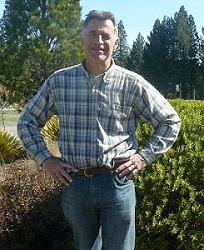 My name is Jim Powell and I'm GardenAction's expert. I have taught horticulture at high schools for over thirty years. My pleasure was to teach gardening skills to pupils at their entry to the school and to see them leave to study the subject at higher levels. Many of my former students now work in viticulture, forestry, agriculture as well as horticulture.
My love of gardening began on my parent's allotment in South Wales.
I've studied horticulture at College of Education, began teaching at primary schools, migrated to New Zealand and moved on to secondary teaching. On the way, I've picked up an arts degree and post graduate diploma in rural studies.
When not looking after guests, I maintain the grounds, see to repairs and like to cook the produce we grow. I have authored school texts in horticulture and write educational resources for an agricultural polytechnic.
Jim lives with his wife, Mary, running a guest lodge on the edge of a small town near to Mount Cook in New Zealand's South Island. They have two acres of grounds, some wild and some under control. They grow their own vegetables and soft fruit.
please send any gardening questions you have directly to me
by clicking the e-mail address below: