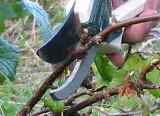 Click to enlarge
The time to propagate the bushes is when the foliage has stopped growing and is beginning to turn brown or falling off. A good time is mid-October although a couple of weeks later is almost as good.
Take cuttings from healthy bushes only - ignore bushes with any signs of disease.
Select a healthy looking stem of ripened (brown not green wood) and cut a 25cm (10in) length.
The cut should be made just below a bud. Pull off all the leaves from the stem being careful not to remove the stem. The result should look like the picture on the right (click picture to enlarge).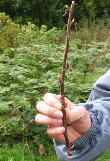 Click to enlarge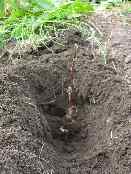 Click to enlarge

Dig a trench about 15cm (6in) deep and incorporate a handful of bonemeal into the removed soil.

Place the cuttings into the trench making sure that at least two buds will remain above the soil surface and that there are four or more buds below the surface. Space the cuttings 20cm (8in) apart (click picture to enlarge).

Fill in around the cuttings with the removed soil, being careful not to damage the buds below or above the soil. Gently firm the soil down around the cutting with your foot.

Water the soil well. It is a good idea to mulch around the cuttings with well-rotted compost to conserve water. In the picture on the right (click to enlarge), old carpets are used a mulch.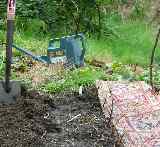 Click to enlarge