Sage is very slow to establish itself, so be prepared for a wait if you grow it from seed. When established however, common sage is reasonably hardy and tolerant of almost all conditions as long as it receives a regular dose of full sun.
QUICK GUIDE TO SAGE
Sage Folklore
Click here
Latin Name
Salvia officinalis
Type
Edible flowering herb.
Site and Soil
Most soils, partial shade or full sun.
Plant to Harvest Time
Seed sown - 15 months
Rooted cutting - 3 months

It is well suited to growing in containers and will grow indoors if given sufficient light. Add to this the nicely textured velvet grey-green leaves and violet flowers and you have a herb or flowering plant well-suited to all gardeners.
There are several varieties of sage with different coloured flowers and even variegated leaves (some fine for kitchen use), although none are as hardy as the common sage.
Where To Grow Sage
Sage will grow almost anywhere as long as it is in full sun for a good part of the day.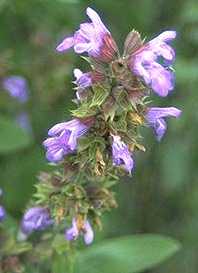 The best soil is a well-dug medium one, with a handful or two of bonemeal worked in twice during the summer. What sage does not like is soil that is moist all the time - it is a native of Mediterranean areas.
Propagating Sage
Sage is sold at most garden centres in small pots - as long as they are purchased after all danger of frost has passed, they can be planted straight outside. This is the quickest and most reliable way to start growing sage. Make sure that a 90cm (3ft) is in place near the main stem - the plant can be tied to it as it grows. Sage can stand by itself most of the time, but the odd strong wind may snap the brittle woody stem. You should be able to pick a few leaves in July time if planted in Spring.
It is more satisfying to raise sage from seed, but be prepared to wait. Sow indoors in March (potting compost is fine), or in April outside. The plants will grow very slowly and you will only be able to begin harvesting in Junethe next year.
Sage looses some of its strength after three or four years, so it is necessary to take cuttings in Spring (5cm or 2in long) to replace the plant the next year.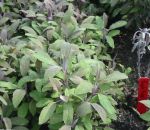 Purple Sage

Work in a couple of handfuls of bonemeal to the surrounding soil at the beginning and end of each summer. After the flowers die down, prune the plant to about half it's size. Other than that, leave it to fend for itself.

One word of warning - in dry spells, resist the temptation to water, sage prefers dry sunny conditions.
Harvesting Sage
Simply cut off the leaves with scissors or pinch off with your fingers as and when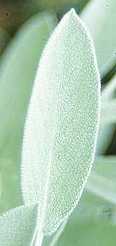 required. One plant should be sufficient for the kitchen needs of most households. Sage is best used fresh, although leaves frozen in a plastic bag are an excellent alternative. Dried sage lasts almost indefinitely if stored in an airtight bottle in a dry place out out of sunlight.
Container Growing Sage
Simplicity itself - use potting compost (remember to put a good layer of stones at the bottom for drainage) and keep the plant on the dry side throughout it's life. A feed every month with general purpose liquid plant food will be enough. Prune as described above.
Sage can be grown indoors as long as it is placed on a sunny windowsill - it will stand direct sunlight with no problems.
Recommended Sage Varieties
Choosing a variety of sage is a matter of personal taste. However, for starters, shown below are a few tried and trusted varieties, all of which can be bought online by clicking ( ).
Sage Salvia officinalis Icterina - variegated leaves and lilac blue flowers as well as being ideal as the traditional herb sage.
Purple Sage Salvia officinalis Purpurascens - great for use as the traditional sage herb, but also with purple foliage.
Sage Salvia officinalis - as the Latin name implies, this is the original sage used for centuries to flavour stuffing, meats and even make sage tea.
END OF SAGE ARTICLE
Name: tomi
E-mail: Private
Date posted: November 19, 2011 - 04:21 pm
Message: Dalmatian sage can take -10 Celsius and no more.It grows naturally here in Dalmatian islands and we use it for medicine tea, honey, essential oils, in cosmetics and in culinary. The best one is from higher altitudes
---
Name: Cheyenne
E-mail: cody32_@hotmail.com
Date posted: November 09, 2011 - 08:33 pm
Message: Due to the lack of rain where im from, our natural grown sage in the local fields have died. Im looking to grow some of my own, but the kind i need is the kind that grows Straight Up, With no stems on it, just leafs. In my culture, we call it "male" sage, and we call "female" sage the kind with the branches. If anyone nows what im talking about and can hook me up i would really apprec. Hit me up on my email, cody32_@hotmail.com. Hope to hear back form anyone about this. Thanks!
---
Name: jim powell
E-mail: Private
Date posted: October 17, 2011 - 04:08 am
Message: Cutting back will encourage new growth next spring. Spray with water to protect from frost, cover to make sure.
---
Name: brad giddings
E-mail: bradgiddings@shaw.ca
Date posted: October 15, 2011 - 11:37 pm
Message: I live in Calgary Canada and we are expecting a solid frost ... low of minus 7c tonight (about 25f) We will cover the plants tonight so the leaves do not freeze (hopefully) We would like to harvest tomorrow but not sure whether to pinch leaves only or cut back to about 7 inches as some websites suggest. What is your advice?
Thanks kindly,
Brad
---
Name: Thein Soe Min
E-mail: kotori.min@gmil.com
Date posted: September 06, 2011 - 05:19 am
Message: Hi, I have planted sage in pots and it grow well. But about 3 months later, the plants become wilt form the young leaves and bud. The shoots drop down and wilt. I don't know the reason why do like that. May it be disease or pest? Or may be weather/ environmental condition?
I wonder if you kindly answer and suggest for me.
with regard
Thein Soe Min
---
Name: Mahfuz
E-mail: mahfuz354@gmail.com
Date posted: September 01, 2011 - 12:35 am
Message: Hi, i have planted several sage seeds, few germinated but all of them were killed while they just sprouted as i kept them in pots open to full sunny condition. please suggest how to care sage after sowing.
---
Name: toya
E-mail: Private
Date posted: July 30, 2011 - 02:04 pm
Message: Hi, the information you provided is very helpful. I have a potted sage plant and I figured out from you info that I am over watering it. The root and the stems of the plant seems very dry and the leaves seem to have burnt marks on them but there are new stems growing on top... Please help! Should I cut off the bottom and replant the top?
---
Name: jeetendra
E-mail: Private
Date posted: June 28, 2011 - 08:07 am
Message: how to take care of plants in garden, iam having a garden , iam having a plant of lotus but from last 2 years there is no flower in that plant , Pls sugess me
---
Name: katherine
E-mail: Private
Date posted: June 07, 2011 - 09:05 am
Message: Last fall I bought fresh sage from food store for a recipe, and I had alot left over so i put it in a glass of water in case i want to use it later. It rooted out so I potted it. However, it bloomed right up and now the leaves aren't furry anymore so is it still good to use or i have to dump it? I mean it thrived but just doesn't taste as good as before.
---
Name: Linda
E-mail: lhoskins@wabash.net Do I
Date posted: May 16, 2011 - 06:50 pm
Message: Do I trim the blooms off my sage plant before the dry up?
---
Name: francis
E-mail: Private
Date posted: December 22, 2010 - 04:42 pm
Message: is sage having seeds
---
Name: sage
E-mail: sharmasudesh@ymail.com
Date posted: November 02, 2010 - 06:35 am
Message: give me in hindi name of sage
---
Name: Anna
E-mail: anna_hailey@yahoo.co.uk
Date posted: October 21, 2010 - 05:08 am
Message: I am planning to use sage in my wedding bouquet and in the decorations, is it possible to grow enough of it between now and next summer?
---
Name: Thanh Ha
E-mail: thanh8ha@yahoo.com
Date posted: September 22, 2010 - 03:38 pm
Message: My sage har grown so beautiful in Oslo, Norway. But I do not know what should I do before the winter comes. Does sage survive long winter with minus 15 degree? Thanks
---
Name: Annie
E-mail: sunshinne8@yahoo.com
Date posted: September 04, 2010 - 05:00 am
Message: I live in Rome and it has been hot and now cooled down. From 33 C down to 18C.
I see that the sage leaves are curling a bit, turning brown around the edges and it is no longer solid green, have many yellow spots- generally no happy. Any ideas. Thank you
---
Name: stephen
E-mail: superstevo1@hotmail.co.uk
Date posted: August 14, 2010 - 05:23 am
Message: the leaves on my sage plant are a bit small sparse at the moment is that normal or should i re plant it in a larger pot
---