Harvesting Your Gooseberries
Most varieties of Gooseberry bush produce both cooking and eating gooseberries - those for cooking being harvested earlier than those for eating.
In order to encourage the best berries, pick about 10% of the fruit in mid-May time when they are pea-sized, these can be used for cooking. This will encourage the remaining fruits to become larger.
When the gooseberries look ready for harvest in July time, first pick those fruits which are shaded at the bottom and in the middle of the bush - these will be the first to stop improving. Leave the fruits on the outer edges of the bush to be picked a week or so later.
Pests and Diseases
Gooseberry bushes grown in the UK are remarkably free from pests and diseases. They are on occasions attacked by Gooseberry Sawfly caterpillars which are capable of stripping the plant of all foliage. A soon as foliage damage is noticed. examine the plant for caterpillars and pick them off by hand. If the numbers of caterpillars are large, spray with derris (available at almost all garden centres).
Click here for more details on identifying and treating Gooseberry Sawfly caterpillars.
The biggest pest is birds, sparrows in particular. Coloured cotton wound round the plant at strategic places will go some way to prevent the birds getting at the fruit. Most garden centres have bird-repellant sprays - ask at your garden centre which is best for your area.
Which Variety

INVICTA


Click on the picture for a larger version. A very compact plant which is ideally suited to growing as a standard in or out of a container - see the next page (or click here) for details on how to grow gooseberry bushes in containers. Produces masses of fruits in July to August which are extremely tasty. Definitely one for the small garden. A GardenAction top recommendation. Click here to buy online from our recommended suppliers.
HINNOMAKI RED
Gardening Advice Center
Share with us your gardening experience!
Name: Missy
E-mail: Private
Date posted: November 10, 2011 - 03:41 pm
Message: I grew up in West Virginia and have many fond memories of our gooseberry bushes. I now live in New Orleans, is there any gooseberry (variety) that would grow here?
---
Name: Val Hannah
E-mail: Private
Date posted: July 01, 2011 - 10:47 pm
Message: My gooseberry bush started out great this year and then bugs and little green worms got to it. Can it be saved? It is very old. What should I do at this point? It is really my sisters,is there a good time to transplant it to her house?Thank you.
---
Name: Jeff
E-mail: jmjp@sky.com
Date posted: May 18, 2011 - 01:24 am
Message: I have a gooseberry bush which is growing in a pot. It is doing really well but has not produced any fruit. Earlier in the year it did have some flowers,only about half a dozen but these didn't come to anything. Any advice would be welcome
---
Name: Linda
E-mail: flanmail@comcast.net
Date posted: September 17, 2010 - 05:06 pm
Message: I've planted my gooseberry bush 5 years ago and it's doing well, except I've never had any fruit on it. (I haven't seen any birds near it). Do they have to mature a few years before producing fruit?
---
Name: Tony Green
E-mail: tony @tony-green.com
Date posted: August 09, 2010 - 08:17 am
Message: Advice required please,
I live in Spain and have nearly fifty what I believe to be Kerry Everall Gooseberry bushes, the crop has been exceptionally good this year but four of the bushes have died back, I can see no reason why this has happened, as te rest of the bushes are strong and healthy, have you any opinions or advice to the problem
---
Name: kerry everall
E-mail: kerry-wery@hotmail.co.uk
Date posted: August 06, 2010 - 05:31 am
Message: how do i know when my gooseberrys are ready?.I brought them in april or may this year.

kerry.
---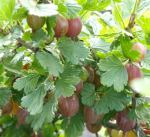 This is our most recommended variety of gooseberry. It produces shed loads of fruit (click the picture to see more clearly) and has great disease resistance.
If you never can quite remember when to harvest your gooseberries then buy this one. When the fruits turn red they are ready to pick, it's that simple. They retain the red colour during cooking - they taste and look superb. Purchase this variety online by clicking here.
WHINHAM'S INDUSTRY


Click on the picture for a larger version. A red-fruited variety which is also suited to the small garden and container growing. Does well in partial shade and will even fruit well when planted under a tree. Good for a north facing-wall.
LEVELLER


Click on the picture for a larger version. This variety is rightly popular, producing some of the tastiest fruits of all gooseberries. The fruits are produced around July, and can be used for for cooking or immediate eating - traditional oval gooseberry shape, with yellow and green colouring. If you choose this one, get the soil preparation correct and it will do very well.