Where To Grow Your Plum Tree
Firstly, plan the position of the plum tree according to its eventual size at maturity (click on the left hand Plum Quick Index for 'Size of Plum Trees'). Allow enough room so that it is not crowded.
Plums have three main needs, warmth (especially important at pollination time, light and moisture. Plums flower earlier in the season than most other fruit trees, so they should not be planted in a frost-pocket. If your garden is in a cool area, avoid early flowering varieties - good varieties to choose are Czar, Victoria or Marjorie's Seedling.
Plum trees prefer to be positioned in full sun, although some shade in the morning or afternoon will not affect them much.
As far as moisture is concerned, do not plant in a water-logged area, but make sure the soil is unlikely to dry out. Don't plant them near other trees which will simply deprive them of the moisture they need.
Planting Your Plum Tree
Technically, you can plant your plum tree any time from late Autumn to early Spring. The best time to plant is in October when the soil is moist but still retains some of the summer warmth.
Soil preparation is best done a month or more before planting so that the soil has time to settle. Dig a 60cm (2ft) deep by 1.2m (4ft) square hole, incorporating as much organic material as possible - aim to get the soil crumbly.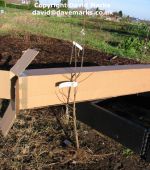 On the left (click to enlarge) is a picture of a one year old bare-rooted plum tree. It is the variety Blue Tit on Pixy rootstock.
It was delivered (ordered online) in excellent condition from Blackmoor Nurseries in early January. The tree was undamaged, labelled correctly and the roots were still moist.
We recommend this nursery very highly. Click here to go to their website.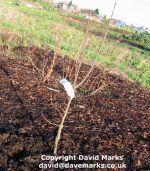 Excuse the angle, it's the picture tilting not the tree!
Click the picture to enlarge it. This is the tree planted on the allotment. Note that the joint between the scion and rootstock (the joint near the bottom of the main stem) is 5cm (2in) plus above ground.
If the tree is being planted in soil which has previously been fertilised for other crops, do not add more fertiliser - too fertile a soil will result in too much tree growth at the expense of too little fruit growth. If the plum tree is being planted in a lawn, prepare as above, working in three handfuls of bonemeal or other long-lasting fertiliser.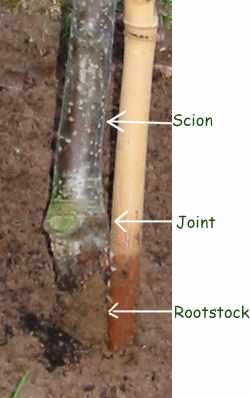 Planting is simple - in basic terms, dig a hole large enough to easily take the roots, place the tree in the hole and cover the roots with soil up to the surrounding ground level. Simple enough, but bear in mind a few points.
Don't add any fertiliser to the soil at this time - it may burn the roots and it will only encourage tree growth at the expense of fruit growth.
The tree should be planted to the same depth as it was in the pot (or the soil mark on the trunk in the case of bare-rooted trees). If in doubt, make sure that the joining point between the rootstock and scion is at least 5cms (2in) above ground level (see left). Having planted the tree, firm down the soil using your boots to ensure the soil is in good contact with the roots - water well if the conditions are dry.
Plum trees should be supported with a stake for the first couple of years of their life. The stake should be 15cm (6in) or so from the main stem. Tie the trunk to the stake at 30cm (1ft) intervals using plastic ties available from garden centres - do not use wire or anything which could cut into the tree trunk. The ties will need to be checked for the first couple of years to ensure that growth of the tree trunk has not caused them to become too tight.
CLICK HERE FOR PREVIOUS PLUM PAGE

Name: NORA
E-mail: norav131@gmail.com
Date posted: October 18, 2011 - 08:19 pm
Message: I PLANTED MY PLUM TREE BACK IN MARCH 2010. THE TREE IS ABOUT 8FT. TALL. I HAVE SEEN THE BLOOMING STAGES TWICE BUT NO FRUIT. EVERYTHING LOOKS HEALTHY OR. AM I MISSING SOMETHING? LAREDO,TX
---
Name: Magdalena
E-mail: cybernenaweb@gmail.com
Date posted: September 23, 2011 - 04:45 pm
Message: Hello, I'm from Spain. My mother is looking for some information about the plum tree, special in "Prunus Domestica Italica", Reina Claudia. If we sow a stone of this fruit, the tree that will born will be of the same species or if the fruit will be different? Can you help us please? My english is not very good, sorry. Thanks!!!
---
Name: sharon
E-mail: www.jake6279@aol.com
Date posted: September 12, 2011 - 12:11 pm
Message: our plun plants have been sprayed with a chinchbug spray could that kill them?
---
Name: clare korb
E-mail: clare13k@gmail.com
Date posted: August 23, 2011 - 07:43 pm
Message: My Victoria type plum is about 10 yrs old. for three years it produced abundantly. I 2010 the blossoms blew off before maturity. 2011 it received a great deal of moisture and has grown to tremendous height, a great deal of foliage. The fruit is larger than before but less in quantity. I harvested the fruit today. I like to steam the fruit, pitted or unpitted. What a drink! MY question is. How much can I prune it and when?

please advise. It is fun to read your comments and advice
---
Name: p pascoe
E-mail: Private
Date posted: August 12, 2011 - 08:43 am
Message: can you get a plum tree planting a plum stone and how long will it take to grow
---
Name: Vincent
E-mail: petersvincent@rocketmail.com
Date posted: June 27, 2011 - 03:38 pm
Message: Hello,

I Planted a Toka Plum tree two years ago. Now it is 10'tall and very healthy looking with rich green leaves. It bloomed early in April, but no fruits at all. It is the most thriving tree of all the trees I have on my yard. I live in Minnesota.

Can anyone please tell me how long does it take for the Toka Plum tree to yield fruits?

Thanks much.
---
Name: james
E-mail: jamesdechene@msn.com
Date posted: June 25, 2011 - 05:23 pm
Message: I am about to plant a TOKA plum tree and a SUPERIOR plum tree but cannot find out how far apart to plant them. Can't find anyone that knows the width at maturity. Can you help, please.
---
Name: gary
E-mail: gary.edworthy@sky.com
Date posted: June 24, 2011 - 09:12 am
Message: Thanks i only started growing plan and tree this year and found your site a very good help to me thanks again gary
---
Name: sunwukong
E-mail: Private
Date posted: January 17, 2011 - 10:41 pm
Message: What fruit tree seeds need a hard freeze before they are planted?
---
Name: Marina Gregoriou
E-mail: mgregoriou2@hotmail.com
Date posted: October 14, 2010 - 08:11 am
Message: Can you let me know when it is the best time to plant fruit trees, mainly apples & pears please
---
Name: donna
E-mail: Private
Date posted: September 09, 2010 - 03:54 am
Message: Ricky, i live in alice springs myself whether this is the same "hot redding ca" as you are - i am looking at getting a plum tree myself. Have heard mixed comments on how plum's do here, some say they grow good as long as you fertilise it well other people say it is to hot for them here. No green thumb myself, maybe it just needs time to adapt to the soil.
---
Name: Ricky barcus
E-mail: Private
Date posted: August 16, 2010 - 09:49 pm
Message: I am no green thumb but i read alot before planting my Thundercloud flowering Plum tree...i planted it in late late spring I live in hot redding ca it grew new leaves in two weeks then fell off the tree is bare now and the smallest of the branches are crispy but i belive the tree is still alive the bigger branches are still bendy i water it every night i hope the tree makes it please help !
---