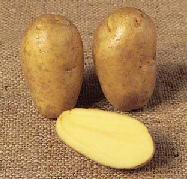 General Description:
Charlotte is a second early maturity potata, producing moderate yields of uniform, smooth skinned tubers. Charlotte has a high resistance to foliage and tuber blight. The potato has a medium dry waxy cooked texture.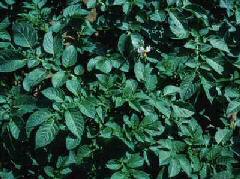 Plant:
Charlotte is of medium height and has mid- green light glossy open leaves.
The leaf is of medium size with narrow primary leaflets. It also has many small secondary leaflet.
BUY CHARLOTTE SEED POTATOES ONLINE
For best prices and top quality we recommend Jamieson Brothers Annan as your online supplier of Charlotte seed potatoes.
APPEARANCE
Charlotte potatoes are oval to long oval, with light yellow skin and yellow flesh, the skin texture is smooth with shallow eyes and firm texture when cooked.

They produce a few purple flowers with white tips and a few berries.
Holder of the RHS Award of Garden Merit.
COOKING USES

This is a specialty salad potato variety. Around 50% bigger than most other salad potatoes

This variety is excellent for boiling and salad use including making delicious potato salad!