Disease and your Peach Tree
(continued - page 5)
Harvesting Peaches
Individual peaches need to be exposed to the sun if they are to ripen successfully. With this in mind, lightly prune any foliage which is clearly preventing light from reaching shaded peaches.
Knowing when the fruit is ripe can be judged from it's colour. If in doubt, gently press the fruit at the stalk end. If it 'gives' a little, the fruit is ripe - if it is hard, leave it for a week or so.
Ripe peaches do not keep for any length of time and they should be eaten within a day or so of harvesting.

Diseases and Pests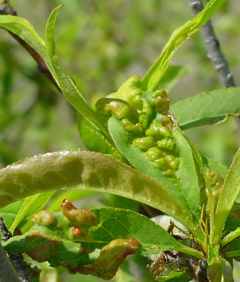 The most important preventable pest for peach trees is peach leaf curl. The fungus 'Taphrina deformans', which is responsible for the disease, over-winters in cracks in the bark. When the young leaves expand, the fungus attacks them and results in severely deformed leaves. The flowers and fruit drop. Note that when the leaves have expanded to their full size, they can no longer be infected.

To the left 'Peach Leaf Curl'

The cure for peach leaf curl is to spray the entire tree towards late January with Bordeaux Mixture - this is readily available in most garden centres. Follow the instructions carefully for best effect. Repeat the spraying in mid February . In this way, the fungus will be killed before the leaves expand.

What To Do If Peach leaf Curl Strikes?


Peach leaf curl is bad for for peach trees because it causes the leaves to become infected and fall off. This puts the tree under great stress and can sometimes kill the tree. Often though the tree partially recovers and leaves begin to grow again in a month or so, not as good as before but they can grow. These new leaves will NOT become infected this season, whatever state the peach tree is in, so do not remove them because they are providing energy to a stressed tree.

The first thing to do is to remove all fruit from the tree. They will never develop fully after an attack of peach leaf curl so don't let the tree put any energy into them. Don't over-water but do provide water if the conditions become dry. Apply a nitrogen rich fertiliser around the base of the tree and water in well.

Then cross your fingers, wait for next year and hope!

Which Peach Tree To Buy
The best type of peach tree is a one year old tree. If bought any older, ensure that it has been pruned correctly for a fan-trained tree.

There is a limited range of peach tree varieties which are suitable for outdoor growing as a fan-trained tree. The best is 'Peregrine' - it produces peaches with an excellent colour and taste, crops each year and is suited for fan-training.

Do not be tempted to buy a nectarine tree! Although a type of peach tree, they are less hardy than peaches and more likely to suffer from diseases.


END OF ARTICLE
Gardening Advice Center
Share with us your gardening experience!
Name: kelly
E-mail: kmlocke1@gmail.com
Date posted: August 19, 2011 - 04:57 pm
Message: hello, my peach tree is about 5 years old and started drupping and the leaves started turning yellow and drying up and falling off? any thoughts on what this could be? i live in arizona
---
Name: Johnny
E-mail: jj9012@ymail.com
Date posted: July 25, 2011 - 02:18 pm
Message: p.s i live in kentucky
---
Name: Johnny
E-mail: jj9012@ymail.com
Date posted: July 25, 2011 - 02:17 pm
Message: Hello, My peach trees had lots of peaches but all on one tree dried up and left nothing but the seeds rapped in the remains on the skin of the fruit. but my other tree did really good why is this? p.s I only have two trees...

thanks.
---
Name: Mel
E-mail: Meljdiaz79@yahoo.com
Date posted: July 24, 2011 - 12:00 am
Message: I'm from California, and I just bought a peach tree about 3 ft tall. I left it in it's pot and feed it miracle grow food and put some I believe it's called Bayer it's for insects and stuff. But I recently started noticing that on one stem of leaves it has white powder like substance on the back of the leaves. What is this stuff and what can I do to fix this? Please answer soon...
---
Name: brian
E-mail: brianramos@bellsouth.net
Date posted: July 06, 2011 - 06:25 am
Message: any info. on plout trees prune n care
---
Name: Jon
E-mail: Private
Date posted: January 18, 2011 - 10:28 am
Message: In Devon UK, I have a wonderful Nectarine. Wall-trained. Cover it every November with a polythene tent, which I leave on until May/June. Never had peach curl since. Every year the most wonderful juicy Nectarines. So I don't agree with the advice not to bother. Might be harder in northern climes.
---
Name: Siphelele
E-mail: s.wambi@yahoo.com
Date posted: December 03, 2010 - 04:13 am
Message: I am having a problem in my peach tree when it berres fruits they become rotting early and I dont know what can I do
---
Name: Zaza Nkosi
E-mail: zaza.nkosi@gmail.com
Date posted: November 29, 2010 - 01:00 am
Message: I am from Linden in South Africa and so frustated. I have a nectarine peach tree and have pruned it well last year. For the past three years, my peaches grow and as they ripen, they start to fall off the tree in large numbers and they are rotten inside. I do not know what is infecting them and what to use. Please help!!!
---
Name: Kim Rounsaville
E-mail: bluiiis99@gmail.com
Date posted: November 23, 2010 - 10:40 am
Message: My peach tree bark has white stuff all over most of its brancehes. Also, the fruit have jelly-like bubbles on the skin and end up rotting. Please help me identify this problem!??
---
Name: vasanthakumar
E-mail: Private
Date posted: November 23, 2010 - 07:21 am
Message: dear sir we have peach tree more than 10 yeasrs now suddenly completly dry from top to bottom how i can solve this probelem
---
Name: John Sullivan
E-mail: drjohnbsullivan02@gmail.com
Date posted: November 06, 2010 - 03:04 pm
Message: My wife just bought two peach trees. One of them has 4 places that have a gummy resin (less than one inch long) dried on the trunk. What has caused this?
Many thanks! John
---
Name: Heather Oermann
E-mail: Private
Date posted: October 14, 2010 - 05:19 am
Message: I bought a Alberta peach tree 1 month ago and all the leaves quickly turned dark brown with a fine white speck. Can you tell me what disease the tree has and how can I treat it.
---
Name: Melissa Buller
E-mail: Private
Date posted: September 28, 2010 - 09:35 am
Message: Big green tomatoe worm, Get rid of these using any household multipurpose cleaner(spic and span or lysol, Mr. clean). Mix cleaner with water about a 10 to 1 concentration(1T cleaner to 10T water,ie). Spray the plant and the next day they should be dead then remove worms stuck to leaves, as some may remain on leaf dead.
---
Name: jo foster
E-mail: jofoster123@googlemail.com
Date posted: August 24, 2010 - 12:13 pm
Message: last year i had 3 peaches on standing tree, they were full of earwigs. This year there is about 20 peaches but they are falling off, also there is a trail of ants going up and down the tree. Can you tell me what to use on the tree. Thank you Jo
---
Copyright 2000-11 GardenAction. All rights reserved.