Rhubarb
Is Rhubarb a vegetable or is it a fruit? We believe it should be called a vegetable because the stems of Rhubarb are eaten rather than the fruit.
Rhubarb originates from Siberia, and is a very hardy, frost resistant plant - in fact it needs a period of frost in the winter to produce the best stalks.
Because rhubarb is so hardy and will survive almost total neglect, it is often left to its devices in preference to other more demanding vegetables. This is a pity, because with minimal treatment at the correct time it will flourish and provide you with delicious stalks at a time when little else is cropping in the garden.
One word of warning - do not eat the leaves of rhubarb - they contain oxalic acid which is definitely poisonous to humans.
RHUBARB
QUICK GUIDE
Folklore

Latin Name
Rheum rhaponticum
Type
Hardy perennial
Site and Soil
Full sun or partial shade, water retentive soil
Plant to Harvest Time
18 months
How Many?
2.5kg (5.5lb) per plant.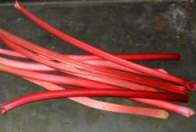 If possible, it's best to grow rhubarb in full sun, but is fairly tolerant of partial shade. They will remain in the same position for up to 10 years and the soil immediately surrounding the plant cannot be dug, so position it with this in mind.
Soil Preparation
Tolerant of most soil conditions, rhubarb grows best in a neutral soil which has been dug to a depth of 60cm (2ft) or more. Incorporate as much organic matter as possible during the digging because it must last the life of the plant - rhubarb will not tolerate soil disturbance once established. The site should be prepared about 4 weeks in advance of planting to give it time to settle.
Be especially careful to remove all weeds at the preparation stage - once rhubarb is planted, it will be very difficult to get rid of them.
When To Plant Rhubarb
Rhubarb can be grown either from seed or as plants purchased from your garden centre. The problem with rhubarb grown from seed is that it takes a year longer to produce stalks and even then, the plants are not guaranteed to be true to type - it's a gamble which takes three years before you know if you have succeeded or failed. For this reason, GardenAction do not recommend the 'seed' route.
Rhubarb plants are available all year round at some garden centres, although by far the best time to plant rhubarb is late autumn to early winter - December is a good month.
Name: jim@GardenAction
E-mail: webmaster@gardenaction.co.uk
Date posted: December 21, 2011 - 03:57 pm
Message: Rhubarb is normally grown from 'crowns'. Seeds are not generally available.
---
Name: hassan watad
E-mail: hassanwatad@gmail.com
Date posted: December 21, 2011 - 09:12 am
Message: hi
i want to bay seeds
of rhubarb
how?
---
Name: lesley page
E-mail: lesleyjp20@btinternet.com
Date posted: September 18, 2011 - 08:48 am
Message: i put my dads rhubarb in my garden 4 months ago,the stalks are very thin,do i pull all the stalks and hope for better crop next year or just leave it.Also how do i get rid of the slugs that keep eating the leaves?thankyou.
---
Name: Rita Carney
E-mail: r.carney@btinternet.com
Date posted: August 15, 2011 - 01:54 pm
Message: I have Rhubarb in a Pot on Patio,it has agood crop again at the moment, but I have been told not to eat it, as at this time of year it will couse upset stomaches, is this right, please help as I love my Rhubarb Regards Rita
---
Name: greenfingers
E-mail: Private
Date posted: July 30, 2011 - 11:02 am
Message: I have a very small plant of rhubarb which I was able to take a few stalks last week.
At the base of the plant which had begun growing after me cutting the stalks, there were quite a few small caterpillers and the leaves had all been chewed at. What can I do? please help
---
Name: carl woolston
E-mail: speedwaycouriers1@yahoo.co.uk
Date posted: June 03, 2011 - 11:21 am
Message: hi i just wanted some advice i have a rhubarb plant in my garden and normally theres just stalk with leaves and we get a plenty full supply but this year its as if it has been treated with radiation or some thing there is a huge stalk right in the center which has flowered and now there are like three sided seeds on it i presume they are seeds my questions are do i need to do anything to the plant or do i just leave it and will more rhubarb plants grow next year if i leave it and it goes to seed many thanks regards carl
---
Name: Wanda
E-mail: Private
Date posted: May 18, 2011 - 01:33 am
Message: I have three rhubarb plants, one from my Mothers garden. I don't know what variety, and its been planted in my yard for over 10 years. Two "Canada red" plants that are 3 years old.The problem is the stalks are alwys green. I fertillize, bone meal, miracle grow, flower food and I still get nothing but green stalks. All plants are in full sun. Any hints?
---
Name: Cyndi
E-mail: tanya.tinkerbell.22@hotmail.com
Date posted: May 17, 2011 - 09:14 am
Message: hello. My husband and I started a garden for the first time in our new home.. neighbours said the previous owners grew a terrific garden... we did all the things we read, yadda yadda yadda... we have rubarb plant that WILL NOT go away.. we dug it, hacked it.. what can we do to get rid of it????? it's now commin up between my tomato's.. HELP???????
---
Name: alan
E-mail: Private
Date posted: May 15, 2011 - 05:36 am
Message: can i pull my stalks on my rhubarb the first year if not what do i do with the stalks as i have a good crop
---
Name: irene
E-mail: enquiries@hilllodge.co.uk
Date posted: November 17, 2010 - 12:38 pm
Message: We have rhubarb growing in the garden, is it safe to eat at this time of year?
---
Name: debbie walker
E-mail: debbiewalker57@live,co,uk
Date posted: November 12, 2010 - 12:44 pm
Message: I planted my rhubarb this yr x was told not to pick ive had a lot fruit on my plant which i havnt picked its now dieing off but theres still fruit on it do i need to cover the plant with anything for the winter
---
Name: B. Walsh
E-mail: Bsandrawalsh@aol.com
Date posted: October 16, 2010 - 05:51 am
Message: Can rhubarb be growen in a pot?
---
Name: Dorothy
E-mail: Private
Date posted: September 19, 2010 - 05:14 pm
Message: I have heard that Rhubarb should not be eatern after August - because of the
poison from the leaves going down into the stalks-is this correct?
---
Name: Paul
E-mail: dlc241012@btinternet.com
Date posted: August 21, 2010 - 02:27 pm
Message: hope you get this
---
Name: Graham Ford
E-mail: Private
Date posted: August 07, 2010 - 06:00 am
Message: Given a root that has grown well BUT the stem are green can they be eaten or what do Ido?????????
---