General Description:

The Gladiator parsnip is the world's first hybrid parsnip. It is a fast maturing, with a consistent high quality flesh, with a silky-smooth white skin and has a very good resistance to disease. It is a superb, sweet, crisp-tasting vegetable. Parsnips are much underrated mainly because of a lack of imagination in cooking.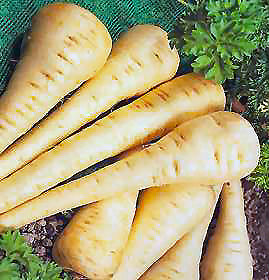 Sowing Instructions:

For long parsnips you need to dig a deep drill which has been manured for a previous crop. They will however do well on ordinary well drained and cultivated soil. Sow from April to June, 1cm (½ inch) deep in drills 30cm (12 inches) apart. Sow in clusters of 4 seeds every 20cm (8 inches) and thin out to the strongest seedlings after germination. Germination is very slow.

Growing Instructions:

Harvest the roots from autumn onwards, leaving them in the ground until required.
Cooking Uses:

Fried parsnips can be a very tasty dish. Boil first and finish off in a frying pan with a knob of butter and sprinkle them with brown sugar. Prepared this way they acquire a particularly crisp and sweet taste.