Blagdon Water Garden Centre, Bristol
This is a totally independent GardenAction opinion of the Blagdon Water Garden Centre in Bristol.
OUTDOOR AREA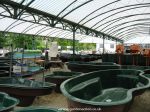 You enter Blagdon Water Gardens vi the outdoor area. It has literally 100s of pond bases of all shapes and sizes. The amount on display is almost frightening!
Going round the outdoor area you can view a huge range of everything to do with water in the garden. Every imaginable shape and size of stone.
On the right are a few of the water features for sale, there are many more than shown in the picture (click it to enlarge).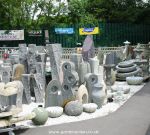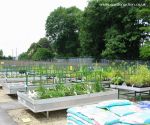 If you are looking for pond plants then Blagdon Water Gardens are the place to visit. The picture on the left shows just some of the plants on offer.
The covered sales area is literally stacked out with water garden accessories as the picture on the left shows. Pumps, filters, feed and many more accessories are available.
Live fish are also on display, the range of koi was extensive. A large range of sizes and colourings at competitive prices.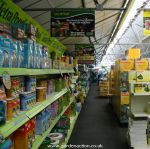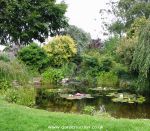 We thoroughly recommend Blagdon Water Gardens for anything to do with water gardens. If you are looking to buy something specific or just want some inspiration then pay them a visit.
One the left of the entrance road is a display garden with several ponds and water features. Click the picture on the left to view one more clearly.
DIRECTIONS AND CONTACT
The address is:
Blagdon Water Gardens
Bath Road
Upper Langford
Bristol BS40 5DN
A map can be found here
Tel: 01934 852973
Email: enquiries@blagdonwatergardens.co.uk
Website: http://www.blagdonwatergardens.co.uk/retail-store.php
COMMENTS
If you have any comments about this review of Blagdon Water Garden Centre or wish to have a garden centre reviewed then send an email to us by clicking the link below:
BRISTOL GARDEN CENTRE INDEX PAGE