Brookfields Garden Centre
This is a totally independent GardenAction opinion of Brookfields Garden Centre in the Nottingham area. Click any picture to enlarge it.
PLANTS AREA
The outdoor plants area is partially covered (about 20%) mainly for seasonal plants. the layout is reasonably pleasant with some straight paths but some displays to break the monotony. Some main paths were bricked but the majority were reasonably solid gravel.
Annoyingly, for the whole hour or so we were at the garden centre, portions of the plants area were inaccessible because a couple of sprinklers were watering the plants and the paths. This was late morning to midday.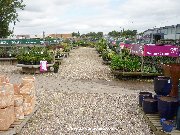 The selection of plants was good as was their quality and general condition.
INDOOR SALES AREA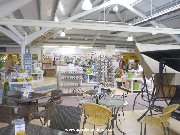 The indoor sales area had a good range of gifts, garden furniture and general gardening accessories. There was also a good Food Hall with a good range of delicatessen type food.
In common with some modern garden centres the metal beams were exposed, but for some reason it was more oppressive and obvious in Brookfields Garden Centre.
CAFE
The cafe was also affected by the metal beams, not the best environment. It was a basic layout made more attractive by the pictures and decorations. The tables and chairs were of basic plastic design but the whole area was kept scrupulously clean.
There was a variety of hot potatoes, sandwiches, toasties, cakes, coffees and teas. The prices were average with the food quality being slightly above average.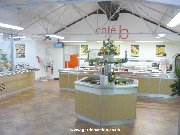 PET CENTRE
None.
AQUATICS
A large aquatics centre with live fish, pond plants and accessories.
GARDEN SHEDS / GREENHOUSES
Yes.
WATER FEATURES
A small display at the entrance.
SPECIALITIES
None
TOILETS
Modern clean and functional. Ladies and gents only.
CAR PARKING
Adjacent to the entrance the car park was on level firm ground.
DIRECTIONS AND CONTACT
The address is:
Brookfields Garden Centre,
431 Mapperley Plains,
Mapperley,
Nottingham, NG3 5RW
Tel: 0115 9268200
Email: http://www.brookfieldsgc.co.uk/contact-us/
Website: http://www.brookfieldsgc.co.uk/
A map can be found HERE
Our sat nav delivered us to the front door based on road name and number.
DISABLED ACCESS
generally good all round.
OPENING HOURS
Monday to Saturday 9am to 5.30pm
Sunday 10.30am to 4.30pm
SUMMARY
A modern garden centre slightly let down by the unsightly metal beams. Aside from the aquatics centre nothing really sets this garden centre apart from the average competition.
STAR RATINGS
The lowest rating is 1 star, the highest rating is 5 stars.
AREA RATED STAR RATING
Plants

Indoor sales

Cafe

Overall rating