Burston Garden Centre, St Albans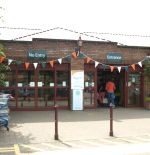 Click any picture to enlarge it.

Burston Garden Centre has been in private ownership for over 30 years. We visited it to test the plants, hardware, aquatics and food. Read on ....
This is a totally independent GardenAction opinion of the Burston Garden Centre, St Albans.
PLANTS
The outdoor plant area is partially covered, around 35% cover. The paths are wide and clutter free with flat surfaces, good for wheelchair users. This is a medium sized garden centre and the range of plants on offer is good though no particular specialisation jumps out at you.
The plants are all healthy and well watered, with lots of staff to keep them that way!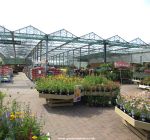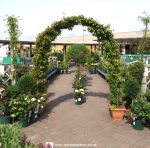 We looked around for a hardy plant guarantee but couldn't find any advertised in the outdoor area. Burston's website does show that all plants have a 3 year guarantee, which is excellent.
The layout of the outdoor are is attractive. Lots of effort has clearly gone into breaking up the criss-cross paths and make wandering around more pleasant.
Both inside and in the outdoor are there are information centres which provide lots of additional details about plants.
There were signs to indicate where the main plant areas were, they could have been a bit higher to make them more visible.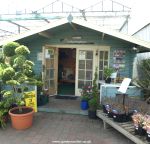 PRICES
The prices were about average at Burston's but the high price of the clematis surprised us.
Rose, 3 litre pot �6.99 upwards
Common shrub (e.g. potentilla, hebe) �6.99
Clematis �10.49 upwards
Runner Bean seeds (4m) �1.99 (Thomson & Morgan)
Stainless steel fork �19.99
Economy spade �11.99
Phosphrogen 1 kg �3.49
Tomorite 1 litre �3.89