Chestnut Nurseries, Coventry
This is a totally independent GardenAction opinion of the Chestnut Nurseries in Coventry.
Chestnut Nurseries is definitely small compared to the mega-garden centres springing up all over the UK. Where it wins however is in concentrating on a small sector of the market. They provide a huge selection of bedding plants, hanging baskets and a smaller selection of beautifully kept shrubs. The garden centres and super stores simply do not provide the range or the quality available at this Coventry nursery.
All the bedding plants and hanging baskets are grown and potted up on site. Quite different to the majority of garden centres who buy in from abroad and around the UK. If you have concerns about the "carbon footprint" of the plants you buy, then this nursery is for you. Click the picture on the right to enlarge it and see one of the "potting sheds".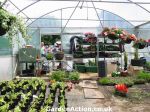 PLANTS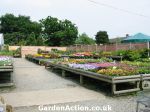 All the plants looked in great health, this nursery provides one of the best displays we have seen to date.
The nursery started in 1945 and is now run by the grandson of the founder. Experience shows in the quality of the plants.
Even more spectacular was the quality and beauty of the hanging baskets, a speciality of Chestnut Nurseries.
If you want a hanging basket, forget the garden centres, they simply are not in the same league.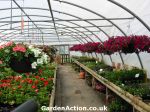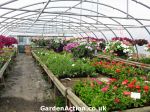 Another picture just to try and illustrate how healthy the plants looked.
PRICES
The prices at this nursery are on a par with the big garden centres and certainly reflect good value for money. You may well find cheaper plants at the big super stores, but you will not get the quality.
DISABLED ACCESS
There are no significant obstacles at Chestnut Nurseries however the ground is a bit uneven in places. On the odd occasion there is also gravel on the surface.
DIRECTIONS AND CONTACT
The address is:
314 Browns Lane,
Allesley,
Coventry CV5 9EE
A map can be found here.
Tel: 024 76402655
Email: Not known
Website: Not available
DATE OF LAST VISIT
Summer 2007.
SUMMARY
A great nursery for all your bedding plants, the best nursery we have visited for hanging basket. Give the big boys a miss, visit Chestnut Nurseries for a change. Alternatively, visit Wyevale's nearby after you have visited Chestnut Nursery. For bedding plants and hanging baskets the difference is clear.
COMMENTS
If you have any comments about this review or wish to have a garden centre reviewed then send an email to us by clicking the link below:
BACK TO COVENTRY GARDEN CENTRE INDEX