Cleeve Nursery, Bristol
(page 2)
HOUSE PLANTS
There was a good range of healthy looking house plants at competitive prices.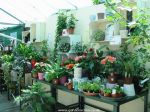 OTHER FEATURES
There was a small children's play area in the outdoor plant area which was mostly visible from the cafe outside seating area.
Cleeve Nursery offer a border design service and they will visit your garden to advise you on garden design and plant selection.
One day a fortnight they brew a "compost tea" which is on sale for that day only, consult their website (see below) for more details. The compost tea should be applied as a foliar feed within 24 hours and is used extensively at the nursery with great results.
CAFE
The Coffee Shop offers coffee from freshly ground beans which was very good. Tea and cakes are also available. There is seating available indoors and out.
DISABLED FACILITIES
The site is on a slope and the owners have gone to great lengths to attempt to make it accessible for the disabled. However, because of the nature of the site we would only recommend it for those who are able to push a wheelchair up and down slopes. Having said that, the owners assure me that they have several regular wheelchair users who do not find this a problem.
TOILETS
The toilets were clean, functional and with no queues.
CAR PARKING
The car park was on a slope but dry and firm. There were sufficient car parking spaces. One word of warning though to visitors! There is a speed camera sited immediately outside the entrance.
DIRECTIONS AND CONTACT
The address is:
Cleeve Nursery, Main Road, Cleeve, Bristol BS49 4PW
A map can be found here

Tel: 01934 83 21 34
Email: info@cleevenursery.co.uk
Website: http://www.cleevenursery.co.uk
DATE OF LAST VISIT
Summer 2007.
SUMMARY
Cleeve Nursery is a refreshing change from many of the larger garden centres. They raise a good number of their plants on-site which is always reassuring. The whole site is very attractively designed and inspirational. We thoroughly recommend that you pay them a visit.
COMMENTS
If you have any comments about this review of Cleeve Nursery or wish to have a garden centre reviewed then send an email to us by clicking the link below:
PREVIOUS PAGE ON CLEEVE NURSERY, BRISTOL