Dobbies Garden World, Chesterfield
(page 2)
HOUSE PLANTS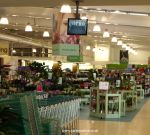 The houseplants were of good quality and prices were average. The selection was large.
The display itself was uninspiring and lacked any logical grouping.
OTHER FEATURES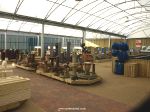 There was a well stocked aquatics centre at Dobbies, Chesterfield. The range of fish and accessories was very comprehensive. Near the aquatics centre was an area set aside for a good range of water feature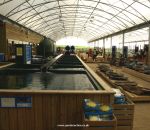 CAFE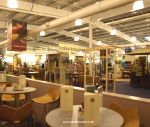 The cafe was very large for a garden centre, with several separate seating areas. One is shown left, overlooking the main shopping area.
The food was good quality and there was an extensive range of coffees, teas, sandwiches, salads, main meals and snack. The prices were on the cheap side for a large garden centre. While the cafe was clean and functional, it had all the sterile appearance of a cafe in a large department store.
DISABLED FACILITIES
The disabled facilities were excellent. All areas were wide enough to be accessible for a wheelchair user. The floors were level. There were toilets equipped for the disabled.
TOILETS
Almost brand new, the toilets area was spotlessly clean and functional with no queues. Baby changing facilities were available free of charge.
CAR PARKING
The car park was enormous and on good, flat dry land.
DIRECTIONS AND CONTACT
The address is:
Dobbies Garden World Chesterfield
4 Highwood Way
Barlborough Links
Chesterfield
S43 4XN
A map can be found HERE

Tel: 01246 571 650
Email: chesterfield@dobbies.com
Website: http://www.dobbies.com/chesterfield-garden-centre.aspx

SUMMARY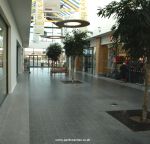 Dobbies at Chesterfield is a modern, huge garden centre that will have everything you need for the garden. The prices were slightly lower than normal which was a pleasant surprise for a mega-garden centre. The shopping area is huge, and for gifts of all kinds it's excellent. The cafe is reasonable
But..... This is a purely personal view. The garden centre is situated in a mall (see left) on a new estate.
All thoughts of a true garden centre have been abandoned, the whole atmosphere is impersonal and sales oriented. We have visited several mega-garden centres and they all have a similar atmosphere. But they also have a big plus, the "day out" factor. The activities on site (Plantasia, train rides etc) at the other garden centres are missing from Dobbies Chesterfield.
We recommend a visit, if only to see where the future of garden centres is going. But we don't guarantee that all of you will like what you see.
COMMENTS
If you have any comments about this review of Dobbies Garden World, Chesterfield or wish to have a garden centre reviewed, then send an email to us by clicking the link below:
PREVIOUS PAGE ON DOBBIES GARDEN CENTRE, CHESTERFIELD