Dobbies Garden Centre, Reading
This is a totally independent GardenAction opinion of Dobbies Garden Centre in Reading. Click any picture to enlarge it.
PLANTS AREA
The plants area at Dobbies Reading is set out well, a bit regimented but not as much compared to the more modern Dobbies. The range of plants is good with no particular area of specialisation,
All plants are covered by a hardy plant guarantee for five years. A good indicator that the plants are healthy and well cared for. There is an unmanned information centre which contains lots of reference books. About a quarter of the outside area is covered, primarily for seasonal plants.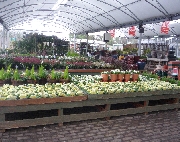 INDOOR SALES AREA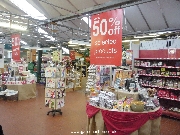 Dobbies garden centre at Reading is not one of their modern garden centres. The interior reflects this. The decor and atmosphere is much more that of a traditional garden centre. The range of goods on offer is comprehensive. Garden tools, feeds and chemicals, garden furniture and a good range of barbecues. There is also a large are devoted to gifts, books and a florist. The food stall offers a good range of organic meats and other delicatessen type foods.
CAFE
The cafe at Dobbies in Reading was closed at the time we visited. This was particularly irritating because we checked their website prior to visiting and no mention was made of the temporary closure of the cafe. That's exactly the type of information which should be on a website such as Dobbies. We will visit the cafe at a later date to review it.
PET CENTRE
They stock a small range of pet foods and accessories but no live pets.
AQUATICS
"World of Water Aquatics" provide a medium range of fish and a good range of aquatic goods and feeds.
GARDEN SHEDS / GREENHOUSES
A very small range.
SPECIALITIES
None in particular.
TOILETS
In good condition and functional.
CAR PARKING
Lots of flat and well drained parking.
DIRECTIONS AND CONTACT
The address is:
Dobbies Reading,
166 Hyde End Road,
Shinfield,
Reading,
Berkshire RG2 9ER
Tel: 01189 884822
Email: reading@dobbies.com
Website: http://www.dobbies.com/reading-garden-centre.aspx
A map can be found HERE
Our sat nav delivered us to the front door based on town, road name and number
DISABLED ACCESS
The majority of areas are accessible to wheelchair users and wheelchairs are available for free at the front door.
OPENING HOURS
Monday 9.00 to 6.00
Tuesday 9.30 to 6.00
Wednesday to Saturday 9.00 to 6.00
Sunday 10.30 to 4.30
SUMMARY
A modern store with a larger than normal emphasis on items for the home rather than the garden centre. That said, the range of gardening items was also extensive. The cafe was large but disappointed because of a total lack of atmosphere. The food was average.
STAR RATINGS
The lowest rating is 1 star, the highest rating is 5 stars.
AREA RATED STAR RATING
Plants

Indoor sales

Cafe Not open when we visited
Overall rating