The Eden Project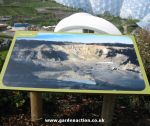 Work began on the Eden Project in February 1999 and the doors to the full site first opened to the public on St Patrick's Day, 17 March 2001. By 2007, nearly 9 million visitors have entered the doors of the Eden Project.
Click the picture on the left to see what the original site looked like before work began.
In the autumn of 1998, work started on collecting the plants which would eventually be housed in the Eden Project's biomes. At the same time as collecting the plants, work was constantly in progress on the temporary greenhouses which would house the plants before their transfer to the Eden Project. This temporary home for the plants grew to occupy a whole acre of land at Watering Lane Nursery, Pentewan, Cornwall.
On 25 September 2000, the huge operation of planting on site began. Some plants were so large they required cranes to put them in position. After three months, planting in the Humid Tropics biome was complete and work concentrated on the underground and over ground infrastructure, lighting, heating, watering systems and much more.
At the same time, a massive 85,000 tonnes of soil was being created and transported onto the site. Opening day was looming and the worst Cornwall winter occurred with more than 100 continuous days of rain.
The Eden Project now has over 130,000 plants with more than 3,500 species but it will never be complete. Work is already going on to feature an exhibition on site to reflect the effects of global warming.
The aim of the Eden Project is to demonstrate how humans depend on plants for our existence. The Humid Tropics biome covers plants from South-East Asia, West Africa, South America and the tropical islands off the coast of Africa. The Warm Temperate biome covers plants from the Mediterranean, South Africa, Western Australia, central Chile and some parts of North America. The outdoor biome takes an informed and interesting look at how plants are used in the UK.