Henleaze Garden Shop, near Bristol
This is a totally independent GardenAction opinion of the Henleaze Garden Shop near Bristol.
HISTORY
One of the locals, Andy Harrison, has written a brief and interesting history of Henleaze Garden Shop. Click here to read it.
OUTDOOR AREA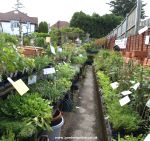 The format of this review will be different from all our other reviews because the Henleaze Garden Shop is quite different from all the other garden centres we have reviewed!
The shop is now two shops knocked into one. Inside the "shops" is the indoor sales area, and the garden area of the shops is the outdoor plant area.
At first sight, chaos seems to reign. The plants are displayed in every nook and cranny of the outdoor area. The indoor area is not quite so chaotic but it is definitely jam-packed full. The local shoppers are adding to chaos, have no doubt that the Henleaze garden Shop is extremely popular amongst the locals. They describe it as as institution.
Examine the chaos a little closer though and things become a bit clearer. The staff know where everything is and so do most of the locals.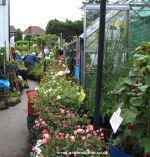 Those that don't know where everything is are even luckier because this is a great garden centre to wander round. Healthy looking plants everywhere you look, some common ones and some definitely not so common. The mix is commendable and many of the larger garden centres could learn a lesson from the Henleaze Garden Shop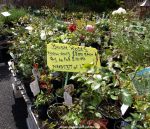 With any garden centre or shop, prices are important. We fully expected the prices to be significantly higher compared to your normal out of town garden centre. But this high street garden centre matches the big boys. The bottom line appears to be that the indoor goods (hardware, fertilisers etc) are a tad more expensive, whilst the plants are a tad cheaper. That's quite an achievement for a garden centre on the high street.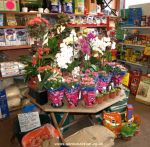 So what do they sell? Well that's the curiosity. It's a shop on the high street, a large one admittedly, but they sell a range of almost everything the standard gardener would need. And right on their doorstep, lucky people!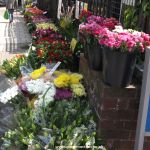 The Henleaze Garden Shop is hardly likely to attract visitors from around the country, nor does it want to do that. But it serves the local gardening community in a way that no out of town garden centre can. The business model of this shop is one that should be investigated by any entrepreneurial gardener who wants to contribute to the local community.
We have no hesitation in recommending this "garden centre" and applaud the service it provides to the local community.
DIRECTIONS AND CONTACT
The address is:
Henleaze Garden Shop
146 - 148 Henleaze Road
Henleaze
Bristol BS9 4NB
A map can be found here
Tel: 0117 9620418
Email: info@henleazegardenshop.co.uk
Website: http://www.henleazegardenshop.co.uk
COMMENTS
If you have any comments about this review of the Henleaze Garden Shop or wish to have a garden centre reviewed then send an email to us by clicking the link below:
BRISTOL GARDEN CENTRE INDEX PAGE