Hilltop Garden Centre, Nottingham
This is a totally independent GardenAction opinion of Hilltop Garden Centre in the Nottingham area. Click any picture to enlarge it.
PLANTS AREA
In amongst what appears to be a vast area of greenhouses is the plants sales area. Hilltop sell a largish range of top quality plants. Many of the bedding and summer flowering plants are grown on the nursery with the remaining plants chosen using the owner's 38 years on this site.
There's a full range of bedding plants, herbaceous plants, shrubs, fruit and ornamental trees. All in tip top condition.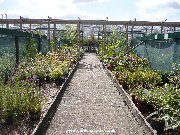 INDOOR SALES AREA

The indoor sales area is minimal, the items for sale all being plants related. Compost, pots, weed killers, plant feeds and the like are all here.
CAR PARKING
Most times of the year the car park is adequate. But in spring, if you come at peak times, the car park will be full. An indication of the popularity of Hilltop Nurseries.
DIRECTIONS AND CONTACT
The address is:
Hilltop Nurseries,
164 Lambley Lane,
Gedling,
Nottingham,
Nottinghamshire NG4 4PB
Tel: 0115 9268200
Email: info@hilltop-nurseries.co.uk
Website: http://www.hilltop-nurseries.co.uk/index.htm
A map can be found HERE
Our sat nav got us there based on the road name and number.
DISABLED ACCESS
Many areas would be difficult for wheelchair users.
OPENING HOURS
Monday to Saturday 9am to 5.30pm
Sunday 10am to 5pm
SUMMARY
An excellent local choice for plants. If that's what you are looking for then we recommend Hilltop Nurseries in Nottingham.
STAR RATINGS
The lowest rating is 1 star, the highest rating is 5 stars.
AREA RATED STAR RATING
Plants

Indoor sales Not applicable
Cafe Not applicable
Overall rating