Malmesbury Garden Centre Cafe
(page 2)
HOUSE PLANTS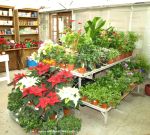 The indoor plants were attractively arranged and there was a reasonable selection.
Maybe it was the time of year we visited but we were surprised that the plants were not grouped into growing conditions or for particular rooms in the house. However, they all looked in excellent condition and were well-priced.
OTHER FEATURES
The manager described Malmesbury as a real garden centre and not a super store. This matched what we saw.
There was a smallish range of gifts (see picture on the right) but most of the shop was devoted to garden accessories. By arranging it this way, the variety of garden accessories was larger than would be possible otherwise.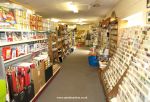 GARDEN CAFE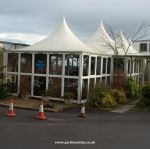 The Garden Cafe was tidy, well kept and had a pleasant airy look to it with large glass areas on two sides. A basic food menu was available with five additional specials. Talking to the cafe manager, the specials changed daily.
The food was of good quality and the prices were on the low side. If you just want tea or coffee and a cake then these were also good. Service was quick and attentive with no queues.
DISABLED FACILITIES
The disabled facilities were good. Most of the floor surfaces were flat and the aisles were more than wide enough for wheelchair access. Wheelchairs were available at the entrance for no cost.
TOILETS
The toilets were adequate, although no disabled or baby changing facilities were available There were no queues.
CAR PARKING
The car park had more than enough parking places and was flat and level.
DIRECTIONS AND CONTACT
The address is:
Malmesbury Garden Centre,
Crudwell Road,
Malmesbury,
Wiltshire SN16 9JL
A map can be found HERE

Tel: 01666 822809
Email: nurden_garden@btconnect.com
Website: not available
SUMMARY
A medium sized garden centre which concentrates on being a garden centre rather than a super store. Good quality plants with a guarantee, a good range of garden accessories and a pleasant cafe. We recommend this garden centre.
COMMENTS
If you have any comments about this review of Malmesbury Garden Centre Garden Centre or wish to have a garden centre reviewed then send an email to us by clicking the link below:
PREVIOUS PAGE ON MALMESBURY GARDEN CENTRE
BACK TO WILTSHIRE GARDEN CENTRE INDEX PAGE