Newington Nurseries, Oxfordshire
This is a totally independent GardenAction opinion of Newington Nurseries near Wallingford in Oxfordshire.
Click any of the pictures on this page to see a clearer enlarged version.
NEWINGTON NURSERIES - THE PLANTS AREA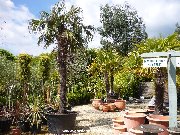 This is not one of our standard format garden centre reviews because Newington Nurseries are not a standard nursery. They specialise in unusual plants and principally large versions of them. They call themselves the "BIG" nursery and they have got that right!
Large to exceptionally large plants are their specialist area. Visit these nurseries to find o focal point plant for your garden and you will not be disappointed.
The Newington Nurseries has four main areas, the outside plants area, the display gardens, the tropical / conservatory plant area and the cafe. The outdoor plants area is pleasantly arranged, you feel like you are walking through a jungle at times, some of the plants are so tall. They are all tip top quality and of course they will arrange delivery for you. After all, some of these plants are not going to fit into your average hatchback car!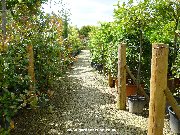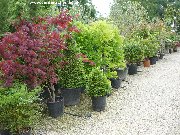 The staff at this nursery are very approachable and knowledgeable. They are more than willing to discuss any requirements you may have and they will make suggestions based on your questions.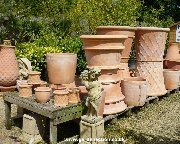 Newington Nurseries deal with the public and trade alike. No job is too big or too small for them. They are garden designers par excellence as their many Chelsea Medals attest to. If it's large architectural plants you are after then this iss the nurseries for you
NEWINGTON NURSERIES - THE DISPLAY GARDENS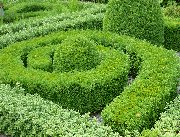 At one end of the outdoor plants area are three or four display gardens designed by the owner and staff of Newington Nurseries. The pictures on either side are of them. Click to enlarge them.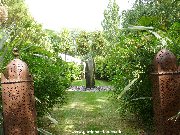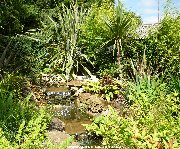 I'm no expert on garden design but it's clear from those gardens how Newington Nurseries won their various Chelsea Medals. They really are works of art. Click any of the pictures to enlarge them and see their work more clearly.
We particularly liked the left hand garden, the water running over the stones was very calming and peaceful.

NEWINGTON NURSERIES - THE TROPICAL PLANTS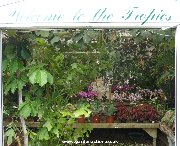 As well as designing gardens and supplying large specimen plants, Newington Nurseries have their very own "tropical zone". Here you can see and buy a wide range of exotic conservatory plants. Most, so exotic that we have never heard of them!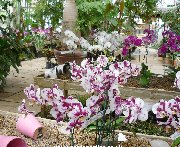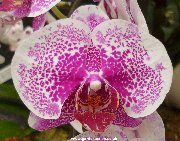 One of their specialities is orchids. They have a huge selection of them, all in excellent condition. A real treat. Even if you are not buying, it's well worth a trip round this area - you'll end up buying anyway, the plants are truly beautiful.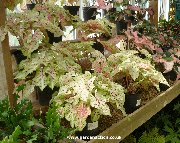 NEWINGTON NURSERIES - "THE ESCAPE" CAFE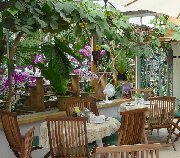 At the end of a walk round the nurseries, the display gardens and the tropical zone you will be in need of a cake and and a cup of coffee / tea, we were. And this is where you will get your biggest surprise at the "Escape" cafe.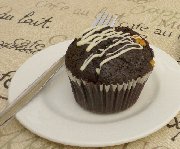 Click the left hand picture above to get some idea of just how attractive this cafe really is. It's set on one side of the main orchid display and these form the decoration on one of the longer walls. The rest of the cafe has been designed in a truly inspirational manner to fit in with the tropical atmosphere.
It's called "The Escape" with good reason. For half an hour or so, enjoy a drink and a cake in this cafe and you will be in another world. Many of the cakes are home made, and they are scrumptious!
The picture above right is of a beetroot and dark chocolate muffin. Now, we know a thing or two about baking; we have a sister site cookuk.co.uk and we have cooked every single recipe on that site, as the pictures prove. But the cakes at "The Escape" are tops as far we are concerned - light and delicious.
So, it's not difficult to judge, from the above, what we think about Newington Nurseries. A delight to wander round and top it off with a visit to the cafe. If you are looking for larger plants then this is about as good as you will get.
If it's garden design, small or large scale, then these folk have more than proved their credentials with the Chelsea medals, gold in 2009. They are willing to plan a whole garden for you or simply advise and plan a small section.
They have our unreserved seal of approval. And, if you are in the area and not interested in large plants, nor display gardens, nor conservatory plants, then just call into the cafe for the best cake and tea / coffee snack you've had for a long time in the best surroundings ever. Praise where praise is due.
CONTACT DETAILS
DIRECTIONS AND CONTACT
The address is:
Newington Nurseries,
Newington,
Nr Stadhampton,
Oxon OX10 7AW
A map can be found HERE

Tel: +44 (0)1865 400533
Email: plants@newington-nurseries.co.uk
Newington Nurseries Website: Click here