WILLOWBROOK NURSERY & GARDEN CENTRE
This is a totally independent GardenAction opinion of Willowbrook Nursery and Garden centre in the Wellington, Somerset area. Click any picture to enlarge it.
PLANTS AREA
The outdoor plants area is rather uninspiring because the layout is simply a criss-cross of paths. There is also a lack of any signs to enable quick location of specific plants.
The plants themselves however are in excellent condition and the selection is good. Most are grown in the adjacent nurseries.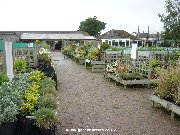 INDOOR SALES AREA

The indoor sales area concentrates on supplying garden accessories, feeds, weedkillers etc. The average gardener will find this store will supply the majority of their needs.
CAFE
The cafe is basic but clean and welcoming. There are two seating areas, one under cover and the other out in the open.
The best one is the outdoor area which is attractively decorated with lots of hanging baskets. It even has its own free range chickens wandering about. The food is good quality at reasonable prices. Coffee, teas and snacks are also served.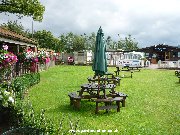 PET CENTRE
Yes, with a good range of live animals and accessories.
AQUATICS
There is an aquatics centre with a fair range of fish and lots of accessories and feeds.
GARDEN SHEDS / GREENHOUSES
Outside the garden centre there is a good range of sheds and greenhouses for sale.
WATER FEATURES
Not a significant display.
SPECIALITIES
Plants grown in the garden centre's own nurseries.
TOILETS
Not noted.
HOUSE PLANTS
For the sizre of this garden centre there was a good display of house plants all in excellent condition.
CAR PARKING
Lots of car parking spaces on level ground
DIRECTIONS AND CONTACT
The address is:
Willowbrook Nursery and Garden Centre,
West Buckland,
Wellington,
Somerset TA21 9HX
Tel: 01823 461324
Email: Not available
Website: http://www.willowbrooknurseryandgardencentre.co.uk/Index.htm
A map can be found HERE
Our sat nav

DISABLED ACCESS
The majority of areas were accessible but there was some gravel in the outside area.
OPENING HOURS
Not known
SUMMARY
A good small to medium sized garden centre with locally grown plants. The cafe serves good food and the outside seating area is very pleasant.
STAR RATINGS
The lowest rating is 1 star, the highest rating is 5 stars.
AREA RATED STAR RATING
Plants

Indoor sales

Cafe

Overall rating