WHAT TO DO IN THE GARDEN IN
FEBRUARY 1st to 7th
Prune Autumn Fruiting Raspberries
Autumn fruiting raspberries produce fruit from September up to the first frosts (and sometimes beyond). They extend the cropping season of this delicious fruit for another 2 to 3 months. Autumn fruiting raspberries produce fruit on "this" years stems. They are pruned in late winter / early spring, later than summer fruiting varieties. In general they are easier to grow and less prone to pests and diseases.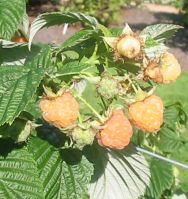 The most common autumn fruiting variety, and justifiably so, is probably Autumn Bliss. This is a regular cropper and produces a large amount of tasty fruit. For something a bit different, try Fallgold (see picture on the left) which produces sweet gold autumn fruit.
To prune autumn fruiting raspberries, simply cut the canes to about 3 cm (1 inch) above ground level. The cut canes can go on the compost heap or be used as twigs to support French Beans and dwarf peas in the summer.
If you want to extend the season of autumn fruiting raspberries, prune half of the canes as described above and cut only 10 cm (6 ins) off the top of the remaining half. The lightly pruned canes will produce fruit in late June whilst the traditionally pruned canes will produce fruit from September onwards.
Spring Cabbages
Give Spring Cabbages a final feed with a high-nitrogen fertiliser such as Growmore. Remove any debris from the surrounding soil.
Preparations For Later
Dig over beds in preparation for planting carrots, broccoli and strawberries in a few months time.
If you plan to grow strawberries in raised beds, now is the time to buy the bed enclosures and fill them with soil. This will start the soil warming process and produce earlier and healthier crops.
GO TO NEXT WEEK'S "WHAT TO DO"
GO TO PREVIOUS WEEK'S "WHAT TO DO