WHAT TO DO IN THE GARDEN IN
FEBRUARY 23rd to 28th
Susan Explains Grow Lights
You can get seeds and seedlings off to an early start indoors by using Grow Lights. These are hung above growing plants and provide sufficient light for them to grow without sunlight. The cheapest way to do this is with fluorescent lights. The tube should be the "warm white" variety which will support vegetative growth. Click here for more.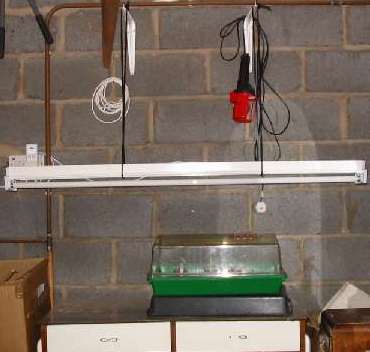 Prepare The Soil for Spring Sowing
Many vegetable seeds can be sown from mid March onwards. Now is the time to prepare the soil for them. Broad beans, carrots, leeks, onions, peas, potatoes and parsnips are the commonest vegetables for March sowing.
Preparing the seed beds now spreads out the work and it also allows the soil a few weeks to settle down. First, work out your crop rotation plan so you know where the vegetables will grow. Don't get over-concerned by crop rotation but it will keep disease at bay.
A basic soil preparation plan is to remove all weeds. You may also want to dig the beds. Sprinkle a handful of blood, fish and bone every square yard / metre over the soil surface then hoe it in. If you have any well-rotted compost, then spread this over the soil surface and gently work it in. Level off the soil with a rake.
Don't apply any fast acting fertiliser (e.g. Growmore) yet because this should be done (if required) when the seeds are sown or the seedlings emerge.
GO TO NEXT WEEK'S "WHAT TO DO"
GO TO PREVIOUS WEEK'S "WHAT TO DO