WHAT TO DO IN THE GARDEN IN JANUARY
JANUARY 15th to 22nd
Plan a Border
Not much needs to happen at this time of year so take the time to re-plan one of your flower beds.
Use a mixture of perennials (see below) and annuals and include some evergreens for year round interest.
Perennials are plants which come up year after year . Annuals are plants which only live for one year. Biennials grow in year one and only appear fully in year two.
When planning a border, think about the eventual height and spread of the plants rather than their size when you buy them. Look at neighbours front beds for inspiration. Also, plants that do well in your neighbourhood are likely to also do well in your garden.
Shrubs can be expensive so think about asking friends and neighbours if you can take cuttings - much cheaper and much more rewarding.
A good place to start when choosing deciduous shrubs is the GardenAction page on this subject. Click here to go to that page.
Vegetable Garden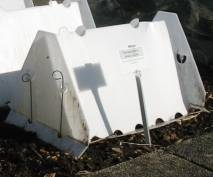 If you plan to use cloches to get early crops of vegetables then now is a good time to put the cloches in place.
If left in place for three or four weeks before planting they will warm up the soil by a few degrees and dry it out. Everything you need to know about cloches and cold frames is here.
Most vegetables respond well to growing under cloche / cold frames but the most frost-tender vegetables benefit the most. Tomatoes, French beans and peas are good examples.
A cheaper alternative to cloches is to use plastic bottles with the bottom cut off. This provides good protection from frost and harsh winds. Place them in position about four weeks earlier than required to warm up and dry out the soil. Plant a couple of seeds under each bottle then remove the bottle when seedlings have emerged and reach the top or side of the bottle. The bigger the bottles the better.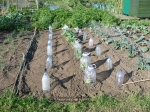 GO TO NEXT WEEK'S "WHAT TO DO"
GO TO PREVIOUS WEEK'S "WHAT TO DO