How To Prune Clematis Group 3

PRUNING CLEMATIS GROUP 3
Clematis Group 3 consists of all clematis which produce flowers from mid-summer onwards. These clematis grow their stems and flowers during the same season after pruning. If not pruned, the plant will quickly become a mass of old diseased woody stems producing very few flowers. Click here for a list of variety names which fall within this group.
Clematis in Group 3 should be hard-pruned in late winter (mid February is a good time) by cutting all stems back to about 25cm (10in) above ground level. always ensure that each pruned stem has at least one good pair of buds on it. See the diagram below.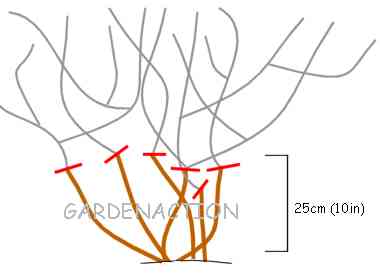 Cut each stem just above a pair of healthy buds.