VARIETIES OF CLEMATIS MONTANA
One of the hardiest of the clematis plant family, clematis montana are rightly very popular. They are vigorous growers and will quickly cover large fences and wall. Clematis montana require little pruning, flowering on last year's wood, other than keeping them within bounds.
Clematis montanas produce masses of flowers in late Spring. Colours vary from white through to rose-pink and many are scented.
Click on any of the small pictures to see an enlarged version.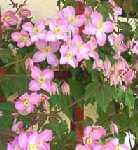 Name: Clematis montana 'Tetrarose'
Hardy: A fully hardy plant
Height: 8 metres (25ft)
Flowers: Classic clematis montana shaped flowers, light to deep rose pink. The flowers are larger than most of the montanas and are lightly scented.
Leaves: Bronze-green
Position: Full sun or semi-shade
Pruning: Group 1
Click here to buy clematis Tetrarose.




Name: valerie jones
E-mail: viv296@sky.com
Date posted: September 06, 2011 - 08:05 am
Message: when is the best time to sow the seeds for clematis montana?
---