Patio roses are simply small rose. Typically they grow to between 45cm (18in) and 60cm (2ft). They are ideal for pots and tubs, also at the front of a border when grouped in odd numbers. Miniature roses are even smaller, ranging from 25cm (10in) to 30cm (1ft).
Patio roses require the normal care that applies to other roses (see the left hand menu). Their pruning requirements are however minimal and very simple to do. Click "pruning roses" on the left for more details.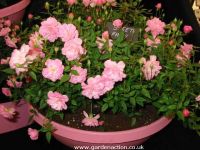 "Sweet Fairy" A common mistake is to try to grow patio roses indoors. In most cases this is doomed to failure. The roses are fully hardy and need conditions that are rarely found in a heated house.
By all means take a potted patio rose indoors for a day or two, any longer and they will begin to suffer.
Below we give the website addresses of some well respected online suppliers of patio rose suppliers.
UK
Apuldram Roses
Fryer's Roses
British Roses
Australia
Nationwide Roses
Roses Now
USA
Exciting Gardens