Advantages of Compost Bins
Free standing compost heaps are fine in many situations but if you have little room or want to make good-quality compost quickly, a compost bin is the best way forward.
There are several reasons that make a compost bin very effective in composting waste:
1. They keep in the the warmth created by the decomposition process and this speeds up the process.
2. The amount of water contained in the compost can be controlled more easily. Water the compost bin when the compost becomes dry, cover it with a lid when conditions are wet.
3. The compost is kept moist right up to the edges which speeds up the composting process.
4. Small amounts of compost will decompose far, far quicker in a compost bin.
5. A compost bin keeps the compost enclosed, reducing the danger of wild animals taking cover in an unenclosed compost heap. Bees and wasps sometimes favour compost heaps for nesting.
6. Finally, they can be used in conjunction with an unenclosed compost heap. Use compost from the bin when finer quality compost is required.

COMPOST BINS - DIFFERENT TYPES
There are a hundred or so apparently different compost bins, but most fall into one of the categories below.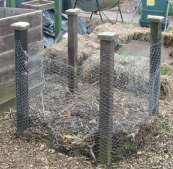 The Simplest and Cheapest is 4 wooden poles driven into the ground to form the corners. Enclose these with sides of wire mesh nailed into the corners. When protection is needed from rain or to preserve the heat generated, cover the top with old carpeting or plastic sheeting.
CLICK PICTURE TO ENLARGE
Simple and Cheap, this type of compost bin does almost everything you could want. It gives protection from cold and winds and is relatively simple to make.
It has layers of four wooden boards held together by corner pieces (click here for enlarged corner picture). You can add layers or take them away as you want.
CLICK PICTURE TO ENLARGE