CANKER
There are two common forms of canker, fungal canker and bacterial canker.
Fungal Canker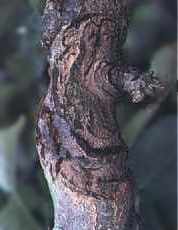 Commonly found in the UK on apple and pear trees, but also affects other trees including ash, beech, hawthorn, poplar, sorbus and willow. Unfortunately this disease also affects the world's best loved plant, the rose.
The canker is first noticeable in autumn as a swelling of the bark - often at the site of a pruning wound or damaged bud. The central part of the swelling begins to die back and the bark flakes off leaving a sunken discoloured area. In summer, white fungus grows on the diseased bark, turning to a red fungus like growth in winter.
Bacterial Canker


A serious tree disease in the UK for almonds, cherries, nectarines, peaches and plums. First symptoms in autumn are shallow depressions at the base of branches which enlarge in spring, completely circling the base of the branch and causing it to die. An amber like gum may also appear.
How to Treat Canker
Diseased patches should be cut out, back to good wood, using a knife or chisel - burn the diseased wood. The exposed healthy wood can be painted with a canker paint available from larger garden centres. If canker is a major problem, spraying with a copper based fungicide (bordeaux mixture is sold by most garden centres), in August, September and October will greatly assist. Three consecutive sprayings are needed for the full effect.
GO TO THE GARDEN PEST AND DISEASE MAIN PAGE FOR
PESTS AND DISEASES CLASSIFIED BY PLANT