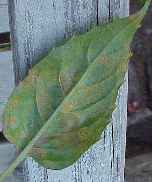 Rust
Pucciniastrum epilobi - this appears as raised, round rust coloured spots on the underside of leaves.
Rust can affect a variety of plants including fuchsias, roses, chrysanthemums, pelargonium, garlic, onions, leeks and broad beans.
Rust is a fungal disease.
How to Treat Rust
Hygiene is the best way to prevent rust - ensure all fallen leaves are removed from the top of the soil before they begin to decompose. Prune the plants to ensure a free circulation of air, especially at the centre. Remove and burn all infected leaves from the plant.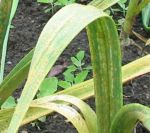 As soon as rust is noticed, remove all affected leaves and burn them. Try to isolate infected plants from healthy ones. The infection spreads through the air via spores. The conditions needed for rust are wet leaves at the right tempearature.
The plants should be sprayed with a fungicide such as thiram, maneb or zineb at ten day intervals.
GO TO THE GARDEN PEST AND DISEASE MAIN PAGE FOR
PESTS AND DISEASES CLASSIFIED BY PLANT