SCAB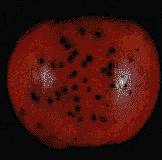 The symptoms of Scab are olive-green or brown blotches on the leaves. The blotches turn browner as time progresses. Then brown scabs on the fruit (see apple picture on the left). The diseased leaves will fall early and the fruit will become increasingly covered in scabs - eventually the fruit skin will crack.
Although scab is unsightly on the apples, if the skin is peeled before eating, the fruits will still taste the same.
How to Treat Scab
There are chemicals to treat infected trees, but they are systemic which means the chemicals are absorbed by the tree and spread throughout the fruit.
The best solution is to remove and burn diseased fruit as soon as possible, and do the same with leaves, both on and off the tree. The life cycle of scab disease is heavily dependant on the spores over-wintering in the fallen leaves. With this in mind, clear and burn all leaves which fall in the autumn and winter.
If you are planting apple trees, avoid low lying areas where air movement is restricted. Plant the trees in the open where they will benefit from good air circulation, avoiding damp conditions.
GO TO THE GARDEN PEST AND DISEASE MAIN PAGE FOR
PESTS AND DISEASES CLASSIFIED BY PLANT
END OF ARTICLE