DESCRIPTION
Gardens recently recovering from grassland or badly tended gardens suffer most from this troublesome pest.
The shiny yellow larvae, which are about 2.5 cm (1 in) long, bore small regular holes in most root crops, including parsnips. Small roots may quite often be almost entirely eaten up.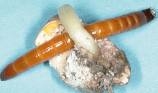 The above picture is of a wireworm having damaged a developing seed. If you can bear to see an enlarged picture, click on the picture above.
TREATMENT
Keep wireworm down by carefully weeding and cultivation. Treat very badly infected land with an insecticide, and do not plant parsnips or any other crops for four or five years.