Holm Oak (quercus ilex)
The Holm Oak is native to Mediterranean areas spreading from France in the West, eastwards to Greece. But because of the beauty of the tree and the many uses for its wood, it has been planted in most areas of North America and Europe.
This is a large tree which can reach up to 28m (80ft) when fully mature. Depending on the growing conditions, the Holm Oak is normally as wide as it is high.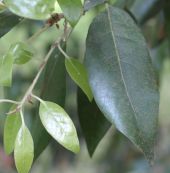 The bark of quercus ilex is a mosaic of raised dark grey tiles.
The leaves grow to 7.5cm (3in) long and 2.5cm (1in) wide but the size varies dependant on how old they are. Older leaves (up to two years old) are the largest.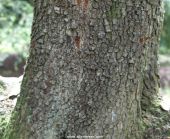 Another variable feature of the leaves is that those lower down the tree are often spiny whereas higher leaves have smooth edges as in the picture above. One theory is that the lower spiny leaves will protect them from being eaten by animals.
When the leaves are young, they have a "downy" appearance which matures to a glossy green as the leaves age. The flowers appear as catkins in April time which mature into stubby acorns in October.
The uses for this tree are extensive. Most interesting perhaps, is that the roots of the Holm Oak are an ideal home for truffles. Holm oak trees, along with others are planted as hosts for truffles when they are cultivated.
The acorns are used to feed pigs in Spain to produce Jamon Iberico and serrano ham. The wood is very tough and durable and is used in carpentry where a strong wood is required, notably wine casks. It's also used in some parts of the world to produce charcoal and as firewood.
The tree is attractive as a specimen tree with its wide traditional shape and dense foliage. It can be cut (pollarded) to form a dense hedge which is often used as a windbreak in coastal areas.
Other pictures of the Holm Oak from different locations are shown below: