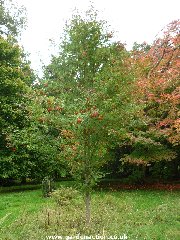 Sorbus commixta, click to enlarge
Very frequently grown as the cultivar sorbus commixta 'Embley', this Rowan has spectacular autumn leaves which turn a bright red.
CLICK ANY PICTURE ON THIS PAGE TO ENLARGE IT
Chinese Scarlet Rowan (sorbus commixta)
Sometimes also known as sorbus discolor, this species of sorbus grows to an eventual height of 10m (32ft) and spread of 8m (25ft). The scarlet leaves in autumn is its main distinguishing feature. It also has flowers in spring and red berries in early autumn. It grows well in clay soils and makes an excellent narrow tree for medium and large gardens.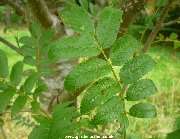 The leaves of sorbus commixta are a deep glossy green during the summer. They turn a spectacular red in mid autumn / fall.
PICTURE OF FLOWERS COMING SOON
The white clusters of small flowers are produced in the spring, providing significant interest at that time of year.