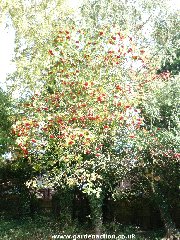 Sorbus sargentiana, click to enlarge
One of the rarer of the Rowan tree species, Sargent's Rowan has the typical autumn berries and spring flowers.
CLICK ANY PICTURE ON THIS PAGE TO ENLARGE IT
Sargent's Rowan (sorbus sargentiana)
Sargent's Rowan will reach about 10m (33ft) high at maturity. It is not one of the common Rowan's and the reason is clear if you take the trouble to see it growing in an arboretum or park. The foliage, which is generally described as being brilliant red in autumn, frequently falls early when it is a rather blotchy orange colour.
Yes, the berries are a sight to see but they are red, and because of their sheer number are obvious to birds. They eat the berries in a very short time.

The berries of sorbus sargentiana.
The berries are bright red and produced in very early autumn. They are one of the key distinguishing features of this species of Rowan. The size of the berry clusters is easily the largest of all the Rowan.
The downside is that their colour and size are like a magnet to birds.
PICTURE OF LEAVES COMING SOON
The leaves of sorbus sargentiana are larger than most Rowan being about 35cm (14in) long with 7 to 11 leaflets per leaf.
The leaves are green at first then turn brilliant red in autumn. We have viewed several of this species in the UK though and van confirm that relatively few of the leaves stay on the tree to turn red.
PICTURE OF FLOWERS COMING SOON
The cream coloured flowers appear in May and like the fruit form bunches larger than other Rowan tree species.