Nottingham Park Grounds
(click any picture to enlarge it)
THE PARK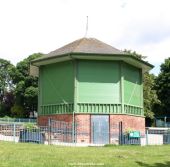 Two key features of the park are listed buildings and have recently been renovated.

The Band stand on the left dates back to 1881.

The Chinese Bell Tower was originally built in 1862.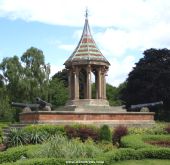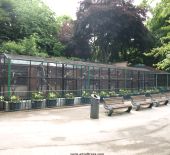 The aviary is at the centre of the park and houses many rescued birds which would otherwise have died.
The lake is another beautiful feature of the park with shrubs and trees shading its borders.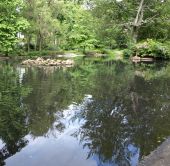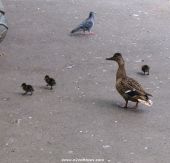 The park supports a wide variety of wildlife which you are advised not to feed.
The squirrels are particularly friendly, with a definite interest in humans! Ducks and pigeons are also common around the lake.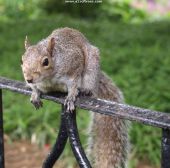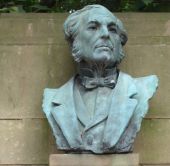 There's lots more in the park, just stroll around and find out for yourself.
In the end, the park's most frequent visitors, especially in early summer, are the students of nearby Nottingham University.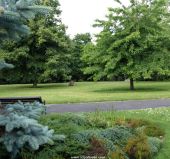 HISTORY OF THE NOTTINGHAM ARBORETUM PARK
Nottingham Arboretum was opened in 1852 and was designed to be a free to enter park for the inhabitants of Nottingham. The emphasis was, and still is, to provide a park which was home to a varied and interesting collection of trees.
The vast majority of the park features (statues, band stand, aviary and Bell Tower) were added over the next 40 years and remain until this day. Some of the original trees planted also remain although the tree collection has been steadily enhanced and replaced over the years.
In addition to the trees, the arboretum is planted with displays of annual bedding plants and over the years the dahlia display area has become rightly famous.
In 2002 funds were raised to restore many of the hard features of the park to their original condition. Probably the two most significant areas to be restroed were the Chinese Bell Tower and the band stand which is regularly used.
A number of events are arranged throughout the year for the residents of Nottingham. The following websites will provide up to date information about those events and more information about Nottingham Arboretum:
Nottingham City Council
Nottingham Civic Society
Digicam69