Arthur Turner Cooking Apple
The Arthur Turner apple tree was bred in 1912 at Slough, Berkshire in the UK.
This is a good cooking apple with an acidic taste.

It's a partially self-fertile variety which produces fruit earlier in the year than most, from late September onwards.
The pollination group is 3.

Arthur Turner has good resistance to frost. Unusually this apple tree was awarded the RHS Award of Garden Merit (1945) for the very attractive flowers it produces. It gives a good, reliable crop of apples which are green, yellow to tinged with orange.

Arthur Turner is a very versatile apple for cooking. When cooked it breaks down to a sweet puree with the result that it requires little additional sugar in pies and sauces. It makes one of the best baked apples ever, a treat which should be sampled more often than it is nowadays.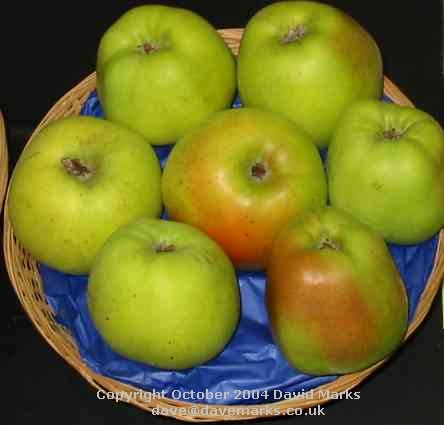 THE APPLE
Taste
Acidic
Skin Texture
Tough
Flesh
White
Apple size
Large
GROWING
Flowers
Middle to late season
Pollination Group
3
Vigour
Strong grower
Crop Yield
High
Eating time
September to November
Tree Shape
Upright
Gardening Advice Center
Share with us your gardening experience!
Name: bill davies
E-mail: Private
Date posted: September 05, 2011 - 04:07 am
Message: Does not keep very well, we pick ours and they only seem to last about a fortnight before starting to go soft.
lovely taste though
---
Copyright 2000-11 GardenAction. All rights reserved.
GardenAction Apple Links
Arthur Turner
Bramleys Seedling Apple
Cox's Orange Pippin Apple
Discovery Apple
Egremont Russet Apple
Fiesta Apple
Fortune Apple
Greensleeves Apple
Grenadier Apple
Howgate Wonder Apple
Idared Apple Apple
James Grieve Apple
Jonagold Apple
Jonagored Apple
Jupiter Apple
Katy Apple
Lane Prince Albert Apple
Monarch Apple
Peasgood Nonsuch Apple
Rev W Wilks Apple
Rosemary Russett Apple
Spartan Apple
Tydermans Late Orange Apple
Worcester Permain Apple