Bridgemere Garden World
(page 2)
HOUSE PLANTS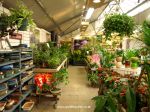 The house plants for sale were in good condition and the range available was excellent.
Some attempt had been made to group the indoor plants logically but in practical terms the grouping was for display purposes rather than by growing conditions.
OTHER FEATURES
A comprehensive range of gifts, cards and garden accessories are available which will not disappoint. The range of indoor and outdoor furniture was exceptionally good.
We found the Hoobycraft shop on site particularly good. It was, by far, the largest Hobbycraft we have seen at a garden centre.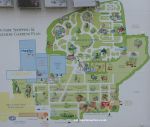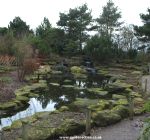 The Bridgemere Gardens are made up of eight separate gardens, each designed for a specific purpose. The easy maintenance garden is there, as well as the shrub garden, water garden (see left) plus others.
The vast majority of the plants are clearly labelled. If you see one you like, it's probably available at the garden centre. Entrance is free.
Near the Bridgemere Gardens is a small railway which tours round the site. At the time of our visit it was closed, so check running times on their website (see below).
AQUATICS AND PETS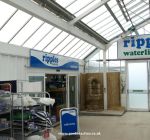 The aquatics centre was very large with a huge variety of all types of fish available. Also included was an excellent display of water features (see right).
The pet and equestrian centre was well equipped with lots for sale. No live pets were offered for sale.
CAFE (updated December 2008)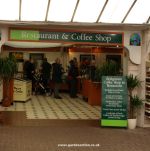 There are two cafes at Bridgemere Garden World, we sampled the larger one. On offer was a full range of cakes, snacks, coffees and teas. Main meals were also on offer (see right). The food was home cooked and reasonable quality.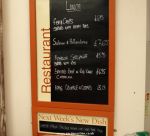 The cafe itself was plainly laid out and gave the impression of a school dining room. The tables and chairs were plain and arranged in long rows. There were no queues even at peak hours. From the number of people in the cafe, it is clear that it has a good reputation with the locals. The prices were slightly high for a garden centre cafe. Our light lunch of a sandwich, crisps and a large mug of coffee cost �6.09, not particularly good value.

Main meals ranged from �6 to �7 with a turkey meal (seasonal for Christmas) cost �6.99. Some sorry looking mince pies cost �1.49 each. The sandwiches (home made at Bridgemere) were a bit low on filling. The cheapest hot meal was soup of the day with a chunk of bread and a thin slice of Cheshire cheese at �4.70, slightly higher priced than normal.


DISABLED FACILITIES
Bridgemere is a large garden centre and they have laid it out extremely well for wheelchair use. The paths were wider than normal and were all flat and uncluttered. Wheelchairs are available at the front entrance for no cost.

TOILETS
There were disabled and baby changing facilities. They were clean and well kept with no queues.

CAR PARKING
The car park was on flat ground with lots of spaces.

DIRECTIONS AND CONTACT
The address is:
Bridgemere Garden World
Near Nantwich
Cheshire
CW5 7QB
The garden centre is well signposted from junctions 15 and 16 of the M6.

A map can be found HERE

Tel: 01270 521100
Email: not known
Website: Bridgemere (Wyevale's) (almost no information)

SUMMARY
Bridgemere is one of the largest garden centres in the UK and stocks a huge range of good quality plants and garden accessories. Service is good, with the advice centre being staffed even in January. The Bridgemere Gardens are impressive, inspirational and the majority of plants are labelled.

The cafe serves reasonable food at slightly higher than normal prices. Not the best cafe we have encountered, with a distinctly boring and drab interior.

Our other concern is the lack of an advertised hardy plant guarantee.

COMMENTS
If you have any comments about this review of Bridgemere Garden World or wish to have a garden centre reviewed then send an email to us by clicking the link below:

PREVIOUS PAGE ON BRIDGEMERE GARDEN WORLD