Burford Garden Centre
(page 2)
HOUSE PLANTS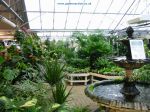 There was a large range of indoor plants for sale at this garden centre. All the plants were healthy and well-watered. The prices were average.
Plant information was only average and there was no attempt to group the plants by growing conditions. The overall display was inspiring.
OTHER FEATURES
The indoor shopping area was very comprehensive. Certainly larger than at most garden centres. The range of goods for sale was not limited to gifts.
Furniture was also available, as were books, cards, clothing, almost everything except electrical goods! There was an excellent kitchen shop and a large Food Hall. Often, this level of non-gardening goods is at the expense of plants. Not at this garden centre.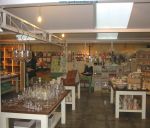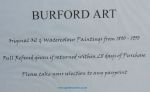 We were truly impressed when we viewed the art gallery at this garden centre. A good range of pictures were for sale, each with sufficient background information.
AQUATICS AND PETS
The only area which was not well-covered for a garden centre of this this size was aquatics and pets. There was a small shop which stocked a reasonable range of pet and fish accessories. There were no pets or fish for sale.
GARDEN CAFE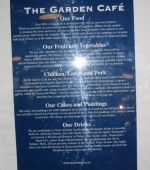 We had a light lunch at the cafe and were impressed by the quality and range of the food on offer. The service was excellent with no queues.
As the sign on the left states, over 90% of the food is produced in the cafe and locally sourced. It certainly tasted excellent.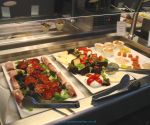 Click the pictures and you will see that range of food is extensive and excellently presented. As well as light lunches a good range of main meals is on offer. The meat used for the roasts is carved in front of you. This has to be the best garden centre cafe we have visited to date.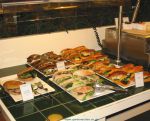 DISABLED FACILITIES
Almost all of both the indoor and outdoor areas were easily accessible for wheelchair users. Wheelchairs are available. Lots of effort has clearly been made to make this garden centre disabled-friendly.
TOILETS
The toilets were clean and functional. Disabled toilets and baby changing facilities were available. There were no queues.
CAR PARKING
There was more than sufficient car parking which was on level ground.
DIRECTIONS AND CONTACT
The address is:
Burford Garden Company
Shilton Road
Burford
Oxfordshire
OX18 4PA
A map can be found HERE

Tel: 01993 823117
Email: info@burford.co.uk
Website: http://burford.co.uk/index.php?main_page=page&id=2&chapter=1

SUMMARY
The Burford Garden Company have created an inspiring garden centre. The range of plants is extensive and well-kept. The non-gardening shopping area is massive and makes for a good afternoon's shopping. The cafe is the best we have seen so far. We recommend this garden centre highly.
COMMENTS
If you have any comments about this review of Burford Garden Company garden centre or wish to have a garden centre reviewed then send an email to us by clicking the link below:
CHRISTMAS SHOPPING AT BURFORD GARDEN CENTRE