We visited Burford at the very end of November but surprisingly there was no sign of them offering a Father Christmas for kids. Let us know if you have more information.
The range of natural trees was large, well-priced and the trees looked very healthy. The range of synthetic trees was small.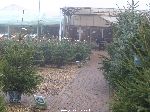 Christmas Plants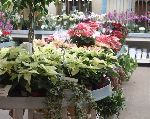 If it's indoor plants you are looking for at Christmas then Burford has a great range. The plants looked in very good condition and the prices were reasonable.
Christmas Spirit and Feel
Burford, at the time we visited anyway, had not really embraced the spirit of Christmas at their garden centre. The Christmas-type goods for sale are all good quality but the range is limited. The exceptions are the healthy Christmas trees and indoor plants.
Our Christmas price guide below uses a star system, the more stars the better the value.

One star shows prices give extremely bad value for money.

Five stars show prices give extremely good value for money.
Synthetic Christmas trees

Christmas decorations / wrapping

A visit to Father Christmas Not applicable
Overall