Cadbury Garden Centre, Bristol
This is a totally independent GardenAction opinion of the Cadbury Garden Centre in Bristol.

The key attraction of a mega-garden centre is that it contains much more than the normal medium-sized garden centre.
Cadbury Garden Centre fits this description exactly. It covers so much that a simple list would not do it justice. Along with that, my memory simply isn't good enough to recall the full list.
With that in mind the photograph on the left lists the key areas that are on offer at Cadbury's. This is not only a garden centre, it's a super store larger than most in the high streets.
The size of this garden centre also allows it provide a wide range of products within each area.
If you are looking for an afternoon out shopping for presents then Cadbury's will provide you with just that.
The remainder of this review will concentrate on the standard garden centre offering and how Cadbury Garden Centre compares to the competition.
As a shopping centre though, we recommend it highly.
CADBURY GARDEN CENTRE - THE PLANTS

The range of plants at Cadbury Garden Centre is extensive. Rather than specialising in any particular area the coverage is generalised. So if you are looking for most normal plants, you will find them offered in full at this garden centre.
If there is a particular area covered in more detail than normal it's ornamental trees. The range is extensive and the quality high.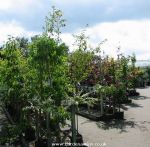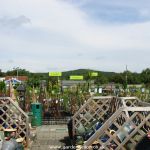 With all those plants on offer it would be difficult to find the one you wanted without a good set of signs in the plant area.
At Cadbury's the signs are large and clear and allow you to find a particular plant with ease. When you locate the area, the plants within that area are in alphabetic sequence.
In the outdoor plant area there are the full range of accessories. All the normal range are featured with a huge range of containers.
If you require any help in choosing a plant there is a "manned" help desk with lots of plant specific brochures and othe information.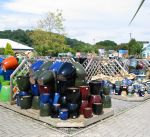 CADBURY GARDEN CENTRE - SHOPPING PRICES
For one of the largest garden centres in the UK, the prices were good because they were about average over the industry. The fruit trees were higher than the average but the trees looked a year older than is the normal.
Rose, 3 litre pot �5.99 upwards
Common shrub (e.g. potentilla) �7.99
Clematis �7.99
Potted fruit tree (various rootstocks) �27.99
Growmore, branded, 3.5kg �4.99
Growmore, branded, 1.5kg �2.99
Miracle Gro, soluble plant food, 1kg �3.79
Evergreen Complete Lawn, 100 sq m �9.99
Name: Roger
E-mail: rogerndirect@yahoo.com
Date posted: December 21, 2011 - 07:24 am
Message: I wonder if anyone can help me with details of a daily bus services from Clevedon to Cadbury Garden Center
---
Name: Tracey
E-mail: Private
Date posted: December 06, 2011 - 02:15 pm
Message: Hi I was wondering if you know where I can buy baby Chipmunks and how much im looking to buy some after xmas I was told one of your shops do it but not sure which one thanks Tracey
---
Name: Gordon
E-mail: Private
Date posted: November 02, 2011 - 08:12 am
Message: HI
Do you havein stock any cothic style garden mirrors or windows ( resin or stone)
REGARDS Gordon Thorn
---
Name: john
E-mail: jfeathers5@aol.com
Date posted: October 02, 2011 - 09:30 am
Message: Hi,
I want to buy lengths of TRELLIS (not a fence) but just lengths to infill 1" spaces in some panel fencing I have.
about 40 off 5ft lengths - can you help?
many thanks
---
Name: Christine Ross
E-mail: Private
Date posted: November 01, 2010 - 02:10 am
Message: Hi We visited your Christmas shop in
Bristol last Friday and purchased a
table runner by Justina Claire with hearts and candy sticks on it, do you have anything else in the range please?

Best Regards

Christine Ross
---
Name: barbara davis
E-mail: Private
Date posted: October 18, 2010 - 06:06 am
Message: could you please tell me if your christmas stuff is out yet. thanks
---