Dobbies Garden Centre, Perth
This is a totally independent GardenAction opinion of Dobbies Garden Centre in Perth, Scotland. Click any picture to enlarge it.
DOBBIES GARDEN CENTRE, PERTH - THE PLANTS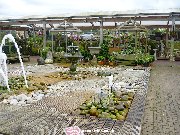 The outdoor plants area at Dobbies Perth branch was more attractive and engaging than some of their efforts. The regimented straight line criss-cross paths were frequently broken down by displays (see left picture).
While photographing the small fountains, it quickly became apparent that the kids loved them! It took ages to get a picture without one of them running through them.
At the end of the outdoor plants area there is an additional higher are that houses ornamental trees and a variety of other plants. We always look for how easy garden centres are for wheel chair users and these steps perplexed us. Dobbies normally make their stores very good for disabled access. Eventually we located a path which ran reasonably evenly up the entire length of the outdoor area. This effectively allowed disabled access to the upper area.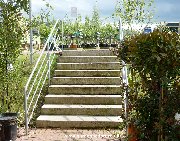 But, in order to get onto the path you would need to go to the furthest end of the path. A significant deviation for a wheelchair user. So we decided to take a picture of those steps and there they are above. But it took about five minutes to get the picture without any people in it. Why? Because three or four people with carts full of plants stood, in turn, at the bottom of those steps with puzzled looks on their faces. How could they take their carts, full of plants, up the steps to see more of the goodies on offer. Not one of those people saw the side path and not one of those people ventured up the steps without their plant carts.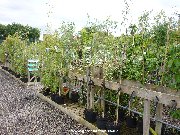 As is the case with many of the larger Dobbies Garden Centres, there was an unmanned information centre with lots of useful reference material. There was an excellent range of ornamental and fruit trees.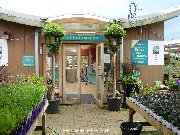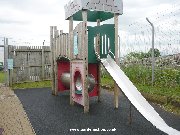 One issue we had Dobbies Perth branch was the so-called "Children's Play Area" as advertised on their website. It consisted of one play item (see left picture) and it was tucked away in a corner which few would ever find. Certainly the left hand picture took no time to take because, during the time we spent at this garden centre, not one single child played here. They found the fountains far more interesting and accessible.

DOBBIES GARDEN CENTRE, PERTH - THE PRICES
Prices were average for Scotland as or trial shopping basket below illustrates.
Rose bush (named variety) �6.99 upwards
Common shrub (e.g. hebe) �5.99
Clematis �6.99 upwards
Runner Bean seeds �2.79
Multipurpose Compost 60l �3.99 or 3 for �10
Miracle Gro 1kg �4.99
Stainless steel fork �21.99 (Dobbies)
Economy spade �13.99 (Dobbies)
Tomorite 1 litre �3.69
Blood Fish and Bone - 3.5kg �5.99
Medium cup of coffee in cafe �1.60