Homeleigh Garden Centre
Launceston, Cornwall
Aquatics Centre
The aquatics centre at Homeleigh garden centre was the largest we have seen to date and stocked a wide range of fish and other animals.
The entrance to the aquatics centre does not do justice to the shop. If you are taking kids with you, make sure you have a trip round because it will keep them amused for half an hour!
There was a large selection of fishes but also a fair amount of iguanas, geckos, snakes and tortoises. The was a special reptile house where we saw them at feeding time.
The centre stocked all the usual accessories and on the upper floor there was a wide variety of fish tanks for sale.
Pets Centre
Again, one of the largest pet centres we have seen at a garden centre. There was a truly huge amount of pet accessories including feed, treats, cages, hutches and a lot more.
Restaurant / Cafe Facilities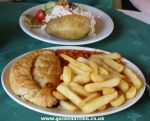 Click picture to enlarge The cafe at Robin's View Restaurant was clearly popular, there was around a ten minute wait in the queue before being served.
The restaurant itself was not particularly attractive and was crowded when we visited at peak times. We did get a table however and hot food is served to your table.

There was a large selection of hot and cold meals plus the normal range of snacks and drinks. Click the picture on the right to see some of what is on offer at this garden centre.
The portions were large, the hot meals were tasty and the prices were on the low side.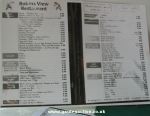 Immediately outside the restaurant was a children's play area. Most of the seating is inside, but if you want to keep an eye on your kids in the play area, there is some outdoor seating.
Homeleigh garden centre is a good restaurant but the queues are a bit long.
Disabled Facilities
There are wheelchairs available at the entrance for no charge. There are also toilets for the disabled. Access round the garden centre is on relatively level ground.
The problem with access for the disabled is the small size of the aisles. In places this would make manoeuvring round corners difficult. This was borne out in practice because we saw no wheelchairs being used at Homeleigh unlike most other garden centres.
Toilets
The toilets were clean with no queues. There were toilets for the disabled and baby changing facilities.
Other Facilities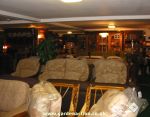 Similar to most other garden centres of this size there were several gift departments. However, at Homeleigh they have far more than most!
Notably there is a good range of indoor furniture (click picture on the left to enlarge it).
Homeleigh garden centre also have an excellent Food Hall. It stocks a large range of local produce including meat, cheese, wine, cakes and lots more.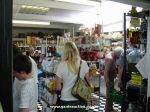 Directions and Contact
Their address is:
Homeleigh Garden Centre
Dutson,
Launceston,
Cornwall PL15 9SP
Tel: 01566 773147
Email: sales@homeleighgardencentre.co.uk
Website: http://www.homeleighgardencentre.co.uk/
Click here for a map showing the location of Homeleigh garden centre
Summary
We strongly recommend a visit to Homeleigh garden centre. It has a large range of healthy plants, many specially selected for local conditions. The restaurant serves good food at good prices but the queues were a bit long. The aquatics and pet centres get top marks for their range as do the gift departments indoors. The Food Hall again gets top marks.
The only significant problem area is the access through the aisles for the disabled.
PREVIOUS PAGE ON HOMELEIGH GARDEN CENTRE