Cafe at Podington Garden Centre
HOUSE PLANTS
There was a good range of houseplants for sale at Podington Garden Centre. They all looked healthy and well-kept.
A bit more thought could have gone into the arrangement of the plants, possibly grouping them by suitability to various room conditions. The prices were competitive.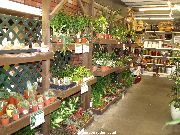 AQUATICS AND PETS
There were no aquatics or pet centres at this garden centre. There was however a small area set aside for small pet feeds and goods.

GNOME'S KITCHEN CAFE
The Gnome's Kitchen cafe at the Podington Garden Centre serves hot food cooked on the premises as well as coffees, teas, snack meals and cakes. It is clearly heavily dependant on the staff who run the cafe. This is not a "formula" cafe, it's a down to earth cafe which aims to serve good food. It works very well, we are pleased to say, congratulations to the staff who do an excellent job.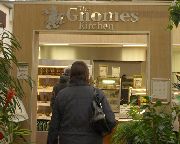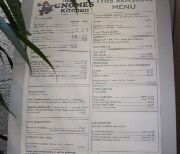 On the left is the basic menu available at the time we visited (click it to enlarge). As well as the standard snacks, coffees and teas there is a changing range of daily hot meal specials. We tried a couple of these and can recommend them.
The hot food is cooked in the cafe, clearly visible from the serving area. It's always a good sign if you can see the food being cooked.
On the right is the meal we had, all very well-presented, tasty and lots of it. The fillings for the hot potatoes were especially generous and represented excellent value for money.
The cafe itself is well laid out, clean and airy. There is an outdoor seating area for warmer days. Service was quick for food cooked to order, and the staff pleasant and helpful.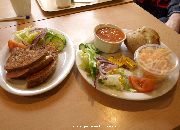 DISABLED FACILITIES
All of the interior and exterior was accessible by wheel chair with no significant slopes. Wheelchairs were available for free at the entrance.
TOILETS
The toilets were clean and more than adequate. There were toilets for the disabled.
CAR PARKING
There is lots of space for car parking at this garden centre. The car park area was flat and dry.
DIRECTIONS AND CONTACT
The address is:
Podington Garden Centre
Podington
Wellingborough
Northants
NN29 7HS
A map can be found here
Tel: 01933 353656
Email: http://www.podington.co.uk/contact.html
Website: http://www.podington.co.uk
SUMMARY
An excellent large, family run garden centre. Better than most of the large chain operated garden centres, the staff are approachable and helpful. The plants are excellent and there is a wide variety.
The cafe serves good quality food and snacks in pleasant surroundings. This garden centre gets our seal of approval and is well worth a visit at any time of the year.
COMMENTS
If you have any comments about this review of Podington Garden Centre or wish to have a garden centre reviewed then send an email to us by clicking the link below:
PREVIOUS PAGE ON PODINGTON GARDEN CENTRE