Sanders Garden World Garden Centre, Burnham on Sea, Somerset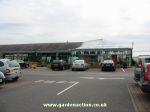 Click the picture to enlarge it.

Front entrance to the Sanders Garden World garden centre, Burnham on Sea. Conveniently near Junction 22 of the M5 for a snack and a walk.
This is a totally independent review by GardenAction.
Sanders Garden World is very attractively laid out in a circular pattern. You can walk round the outside and clearly see all the various sales areas. In the middle is the tastefully designed indoor plant area.
This is one of the most appealing garden centres we have reviewed for a long time. Airy, well laid out, it was a pleasure to walk round it. At the entrance there was a help desk with informative staff, well able to answer most questions. Others obviously think so as well because Sanders won the Garden Centre of the Year award 2007, given by the Horticultural Trades Association.
PLANTS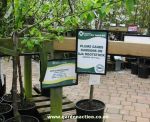 All the plants on display looked healthy and well-cared for. All plants (annuals obviously excluded) are guaranteed for 2 years, always a good sign.
The range of plants was extensive with a particularly large number of roses and fruit trees. Information on the plants was to a high standard especially about the types of rootstock on offer.
The layout of the outside plant area was more attractive than most garden centres and all of the outdoor plant area was kept very tidy. The signs for the different plants were helpful and made finding the plants very easy.
The whole outside covered area was light and airy.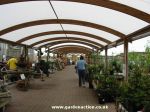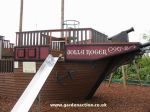 For children there was a large and safe play area with climbing frames and plenty of other interesting play toys including a huge boat called the Jolly Roger. Right by the play area was a snack bar with dinks and ice creams at reasonable prices. Tables and chairs were available where parents could see their children in the play area.
Sanders garden centre have gone to great lenghts to make shopping a very pleasurable experience. This includes a large water feature (see right) with fountains in it.
Well done Sanders!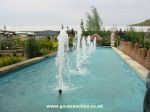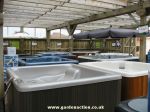 For those who fancy outdoor hot tubs, this garden centre is the place to visit. We counted 22 different hot tubs in all at a wide range of prices.
They are in a covered area outdoors with easy access to the tubs.
PRICES
The price of both the plants and other garden goods was average at Sanders, see our typical basket below.
Rose, 3 litre pot �5.99
Common shrub (e.g. potentilla) �6.99
Potted fruit tree (various rootstocks) �25.99
Growmore, branded, 3.5kg �4.99
Growmore, branded, 1.5kg �1.99
Miracle Gro, soluble plant food, 1kg �3.99
Evergreen lawn Builder 100 sq m �8.99