Smith's Nurseries, Coventry
This is a totally independent GardenAction opinion of the Smith's Nurseries in Coventry.
As the sign over the door proudly proclaims, these nurseries were first established in 1942. What strikes you as you go round the garden centre is the unusual balance between the area devoted to plants sales and the area devoted to non-plant sales. Probably 90% to plant sales and an unusually low 10% to non-plant sales. This may be because around 80% of the plants are grown on site, a good point if you are concerned about your carbon footprint.
PLANTS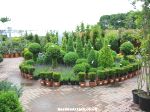 The layout of the plant area is very attractive, click on the picture to the left see one of several well laid out groupings.
Another big plus is that most of the area is under cover, great for a rainy day
It was extremely difficult to find specific plants at this garden centre because there was an almost complete lack of signs to indicate where plant groups were. Even when you found a particular plant group, the individual plants appeared to be randomly laid out. Plants in alphabetic order, as in many garden centres, would be a good idea.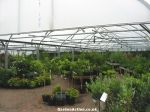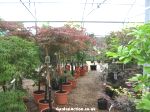 There was a good range of bedding plants, shrubs and trees. Special mention has to go to the good range of small trees, especially acers (one of the few plant groups to have an overhead sign).
There was also an unusually large range of conifers, yews and box trees.
PRICES
The prices of plants at Smith's Nurseries were lower than normal for nurseries with this range of plants. The non-plant sales area was too small to stock all our items, but the prices in general appeared to be about average.
Rose �6.49
Common shrub (e.g. potentilla) �5.99
Clematis �4.97 to �6.97
Potted fruit tree (various rootstocks) �19.95
Growmore, branded, 3.5kg not available in this size
Growmore, branded, 1.5kg not found in this size
Miracle Gro, soluble plant food, 1kg �2.79
Evergreen Lawn Builder 100 sq m �6.99