Stratford Garden Centre Cafe
HOUSE PLANTS
There were no house plants for sale at this garden centre when we visited. Strange, because this is the only garden centre (with an indoor area) where we have found this at any time of the year.
AQUATICS
The aquatics centre was a Maidenhead Aquatics operation. As normal, they stocked a very wide range of fish in an attractive and well-designed shop. The picture on the right shows just some of the fish on offer.
As well as live fish they stocked a good range of accessories and tanks.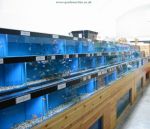 OTHER FEATURES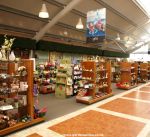 The indoor area had a reasonable selection of gifts and cards. The whole of the indoor area was spotlessly clean and arranged in the style of an up market shop. Wide aisles gave good access to all areas.
Our only reservation is that this format is characterless and not in keeping with a traditional garden centre. But that's a very subjective opinion.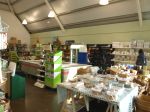 There was a good range of independent small shops at this garden centre. In addition, the range of garden furniture was impressive. The Food Hall, provide by Pownalls stocked some tasty looking items.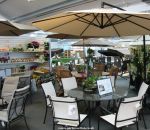 CAFE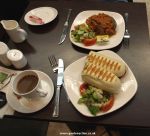 We can't really recommend the cafe at the Stratford Garden Centre for a few reasons. The food looked fine when it was served but our Panini was lukewarm and a bit tasteless. Having said this, the the baked potato tasted good and was hot. Both were served with a small attractive looking salad (more about that later!). The prices were average and there were no significant queues.
The cafe itself was totally without any charm or character. It looked like it had been randomly dropped from above into an available space. We have seen more attractive cafes in airport lounges.
Another minus for this cafe was that only the cakes were on display. Everything else had to be ordered without seeing it displayed. This is the only cafe where we have seen this to such a degree.
The final nail in the coffin for us was when we saw that one of the cafe staff was using his fingers to take salad form a bowl and arrange it on the plates. Also we noted that the Panini's were being placed on plates by hand. This was surprising because other members of the cafe staff used the tongs provided rather than handling food.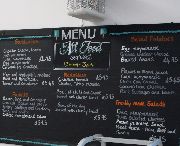 CAFE UPDATE DECEMBER 2008
Click the picture on the left for the current menu. Our second visit to this cafe has done nothing to dispel our previous bad review. We again had the Panini (turkey this time) and baked potato. The potato was fine but the Panini was bland beyond belief. We can't 100% confirm this but it certainly tasted as if it had been reheated in a microwave. Extremely unappetising.
DISABLED FACILITIES
This garden centre had obviously been designed for easy access by wheelchairs. The aisles were wide inside and out with no obstructions. There were toilet facilities for the disabled.
TOILETS
The toilets were functional and clean.
CAR PARKING
The car park was more than adequate and was on level dry ground.
DIRECTIONS AND CONTACT
The address is:
Stratford upon Aavon Garden Centre
Campden Road,
Clifford Chambers
Stratford-upon-Avon
Warwickshire
CV37 8LW
A map can be found HERE

Tel: 01789 205745
Email: mail@stratfordgardencentre.co.uk
Website: Stratford Garden Centre

SUMMARY
Although this garden centre was not to our taste, it may suit yours. The inside area was very modern and designed like a high street shop. For a medium sized garden centre it had a good variety of plants though no areas of specialism. The lack of a published hardy plant guarantee is a bit disappointing though.
The aquatics centre was excellent and the was a good range of other shops. The cafe was totally uninspiring and lacking in character. The hygiene aspects mentioned above were worrying. We can't recommend the cafe.
COMMENTS
If you have any comments about this review of the Stratford Garden Centre, Warwickshire or wish to have a garden centre reviewed, then send an email to us by clicking the link below:
CHRISTMAS SHOPPING AT STRATFORD GARDEN CENTRE