Webbs Garden Centre, Worcestershire
This is a totally independent review by GardenAction.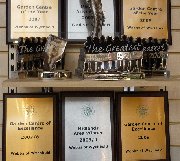 Webbs in Wychbold, Worcestershire are an extremely large garden centre in Worcestershire and they were voted Garden of Excellence in 2009 by the Garden Centre Association.
Helping the customer must be high their list of priorities because they have a help desk as you walk in, a help area as you move into the outdoor plant area and an information building in the middle of the plant area.
We asked the numerous staff several questions and they gave prompt, accurate and polite answers. Impressive.
RIVERSIDE GARDENS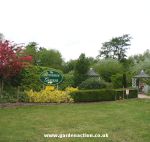 Before you go into Webbs garden centre it's well worth visiting the Riverside Gardens at the far end of the car park.
As you go into the gardens on either side of you is a very large collection of potentillas. All specimens are named so you know exactly what to ask for if you want to buy a particular variety. The best time to see the potentillas is June or July.
Riverside gardens have other sections including a rose garden, all with named plants.
At the bottom of the gardens is a section called New Wave Gardens. These include the hawthorn on the right plus themed areas including a pond, woodland garden, prairie, minimal maintenance, coppice and others. These gardens are great at any time of year.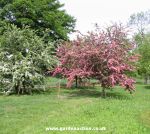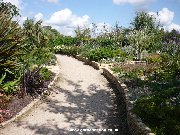 These pictures were taken of Riverside Garden in 2009. During the past year the gardens have been developed further and are excellent on a sunny day.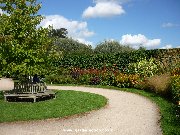 PLANTS
The plants at Webbs garden centre looked healthy and well-watered.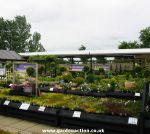 The outdoor plants area is extremely well designed with good signs to help you find the plants you want. With so many plants on offer this makes browsing the plants a pleasure.
All hardy shrubs come with a five year guarantee which is matched by very few other garden centres. It illustrates that Webbs have confidence in the quality of their plants.
As well as plants grouped according to their type (shrub, tree etc) other plant groupings have been created which include plants for shade, acid loving plants and more.
This has required a lot of effort from the garden centre and it's very useful.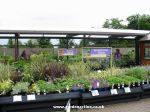 There is a reference centre in the middle of the outdoor plant area with lots of useful information and books. If you are looking for a tree for your garden then this garden centre is the place for you. The range is extensive and they all looked healthy.

PRICES
Our shopping basket shows that Webbs Garden Centre are on the expensive side for both plants and garden accessories.
Rose �5.99 to �8.99
Common shrub (e.g. potentilla) �7.99
Potted fruit tree (various rootstocks) �15.99 to �29.99
Growmore, branded, 3.5kg �4.99 (two for �6)
Growmore, branded, 1.5kg not found
Miracle Gro, soluble plant food, 1kg �3.59
Evergreen Lawn Builder 100 sq m �6.99