Whitehall Garden Centre, Bristol
HOUSE PLANTS
There was a small range of house plants, all of which were in very good condition. The prices were average.
OTHER FEATURES
In line with other large garden centres, Whitehall has a large range of garden accessories and gifts. The range of outdoor furniture is particularly impressive.
On site is a very well-stocked craft shop. This garden centre also has a very large number of garden related activities for both adults and children. This included talks, kids activity sessions, special set menu meals with music. The list is so long that I recommend you visit their website (see the address at the bottom of this page) for full up to date details. One word of advice though, the website covers two garden centres so it can be slightly confusing. The Bristol (Whitchurch) garden centre which we are reviewing is some miles form the Lacock, Wiltshire garden centre.
CAFE
Click the picture on the right to enlarge it and see the specials menu. Whitehall's has a good range of light lunches and snacks plus an excellent selection of main meal specials.
The standard of the food is high with no queues and the service was excellent. The cafe has large indoor and outdoor seating in an attractive environment.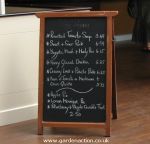 DISABLED FACILITIES
The disabled facilities were good. The floor surfaces inside and out were flat and easy for wheelchairs to use. There were disabled toilets with a ramp to access them. Wheelchairs are available at the entrance with no charge or deposit.
The majority of aisles were wide enough for wheelchairs but a few were not because of plants overflowing onto the aisles.
TOILETS
The toilets were basic Portakabins which were clean and functional. Baby changing facilities are available in the disabled toilet area.
CAR PARKING
The car park was flat and dry with lots of parking places.
DIRECTIONS AND CONTACT
The address is:
Whitehall Garden Centre
Norton Lane
Whitchurch
Bristol
BS14 0BT
A map can be found here

Tel: 01275 832 296
Email: info@Whitehallgardencentre.com
Website: http://www.whitehallgardencentre.co.uk
DATE OF LAST VISIT
Summer 2007.
SUMMARY
Whitehall Garden Centre has all the facilities of a large garden centre with a good range of plants and accessories. The cafe is excellent. Particularly impressive was the range of additional gardening activities. We thoroughly recommend a visit.
COMMENTS
If you have any comments about this review of Whitehall Garden Centre or wish to have a garden centre reviewed then send an email to us by clicking the link below:
PREVIOUS PAGE ON WHITEHALL GARDEN CENTRE, BRISTOL